When thinking of what's unique about the Mekong Delta, Bến Tre province stands out for its coconut culture. In spite of the fact that people are trying to live on coconuts, Bến Tre is considered a place where they are able to live well since there are a dozen different coconut types that each have their own unique qualities. However, It is not the only way people make a living, as they invest in fruit plantations, and grow rice. A truly wonderful homeland, and now let's go with Viet Dream Travel to explore more about this region which absolutely intrigued you.
What is the best time to visit Bến Tre?
Bến Tre and other provinces in the West Region, it is peaceful and pleasant. You can come here at any time, as long as it suits your best schedule. However, according to VietDream travel experience, summer is the best time to visit Bến Tre because this is the harvest season of many types of fruits such as rambutan, mangosteen, longan, and especially durian.
Sightseeing In Bến Tre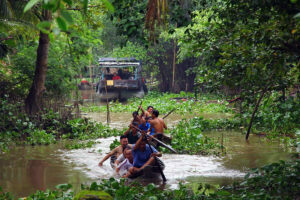 Located along the Tiền River and 23km from the centre of Bến Tre city is Quy islet. This is one of the most famous destinations because of the charming river atmosphere. Coming to Quy Islet, you can live in a peaceful space, without any traces of urbanization, and extremely mild. In addition, visitors can also enjoy delicious fruits right at the longan gardens, orange gardens, and pomelo gardens.. with a cup of honey tea while enjoying the melody of Đờn Ca Tài Tử which has been recognized by UNESCO as the Intangible Cultural Heritage of Humanity.
Sitting on boats floating along the river, watching the rich, green, and peaceful atmosphere in the West region is also one of the experiences that you should not miss. Quy islet is definitely one of the most impressions left in your mind after leaving Bến Tre.
Location: Tân Thạch and Quới Sơn communes, Châu Thành district, Bến Tre province.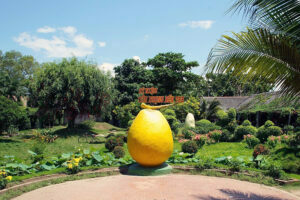 Voted as a typical tourist area in the Mekong Delta, Phụng islet is designed in an open architecture style and is immersed in nature. Phụng islet is like a green oasis floating on the Tiền River, between Mỹ Tho and Bến Tre. The islet has an area of 50ha. Coming here, you can see the original architecture of the site of the Coconut Religion Holy Land. There is also a handicraft village that produces furniture with material taken from the coconut tree.
In addition, you can also experience the fun of fishing, rowing a sampan, riding a horse-drawn carriage, visiting fruit gardens, and admiring the rustic charm of the region.
Location: Tân Thạch, Châu Thành, Bến Tre province.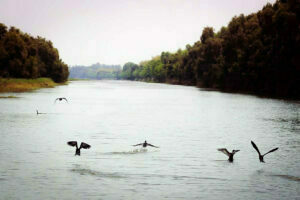 The Vàm Hồ bird sanctuary is home to more than 80 different species of birds. It covers 40ha of which 15ha are primitive date forests. There is a luxuriant flora, of which nipa and mangrove predominate. This is an ideal shelter for birds, especially storks, and herons. During the breeding seasons, from April to October, there are thousands of storks here to breed and raise their young until they are big enough to fly. At 4 pm or 5 pm every day, an interesting event takes place when thousands of storks come home. Meanwhile, the herons begin their night trip searching for food. Besides storks and herons, tourists may find other animals such as bats, snakes, weasels, and pythons…
Vàm Hồ bird sanctuary is located in Tân Mỹ commune, Ba Tri district, Bến Tre province.
Visit fruit orchards
There are many orchards in Bến Tre which are open for tourists coming to enjoy not only fruits but also relax in the gardens.
Being immersed in the fruit orchards during the harvest season is the most valuable experience when coming to this province, especially for those who live in cities or remote provinces. Visitors need to buy a ticket and then you can enjoy as much as they can with all kinds of fruits such as custard apple, longan, rambutan, durian, mangosteen, mango, etc.
Furthermore, visitors can contact the owner of the garden to buy fruit at a cheap price, both selling and giving. Some fruit gardens also have a free visit, only when you want to buy some, you will be charged, a very comfortable price as well. Some famous fruit gardens in Bến Tre:
How to get around Bến Tre?
Bến Tre itself is only a small city, but the Bến Tre province is quite extensive. If you want to see a lot, it is useful to have arranged transport. For longer distances, it is possible to arrange a car/bus with a driver.
However, if you just visit a small town, it would be perfect for exploring by bicycle. Most of the hotels and homestays have bicycles to borrow for free. As an alternative to the bicycle, you can also rent a scooter/motorbike to ride around the area.
And don't forget to experience a rowing boat via canals, and rivers….it's an amazing feeling here.
How to go to Bến Tre from Ho Chi Minh city?
From Ho Chi Minh to Bến Tre about 1h30 minutes to 2 hours by car, on the same route to Cần Thơ. If you want to take a local bus, you have to come and buy a ticket from the Western bus station or backpacker area. Alternatively, you can also rent a car/bus with a driver, so you can visit sights along the way.
Bến Tre speciality
A coastal province in the Mekong Delta, Ben Tre is known for its delicacies from rivers and fruit orchards.
Broken rice (Cơm Tấm) is made from broken rice grains served with grilled pork ribs, pickles, and sweet and sour fish sauce for dipping.

Fish-paste hotpot (lẩu mắm): the best combination between Southerners' favourite goby fish, seafood, beef meatballs, and a variety of vegetables.

Rice noodle soup (bánh canh bột xắt) is served with slices of rice flour, duck meat, and duck blood pudding, with a thick soup not found at any other area in Vietnam.
Warmest Greetings To All from Viet Dream Travel! We offer Vietnam tours (daily and package tours), visa services, and transfer services throughout the country. Let us have a chance to show you Vietnam to the fullest. If you have any questions about Vietnam tourism, do not hesitate to contact us at:
Office number: (028) 3838 8322
Hotline/SMS/Whatsapp/Viber/Zalo (+84) 918 709 338
Or info@vietdreamtravel.vn – visa@vietdreamtravel.vn
Best regards,
---