Ben Tre is a province in the Mekong Delta. It known as the homeland of the Dong Khoi Revolution and a land of the Coconut. The province is situated at the end of the Mekong River where many canals and coconut groves. In addition to coconuts, Ben Tre also has many orchards scattered in many districts. Let us show you more details about this tourist attraction area.
When is the best time to visit Ben Tre?
The raining season in the South Viet Nam start from May until October. You may have a few difficulties during the boat trip if you want to visit Ben Tre during this time.
However, the most wonderful moment to enjoy abundant tropical fruits is from June to August. Or after Tet Holiday where you will have an opportunity to spread your eyes over most joyous festivals, such as the Phu Le Pagoda Festival and the Nghinh Ong Rite.
How to go to Ben Tre?
From Saigon to Ben Tre about 1h30 minutes to 2 hours by car. So you can go there by private car or by shuttle bus from Sai Gon bus station.
Click here if you want to hire private car/bus to Ben Tre. It cost only from US$ 75 for 7-seater car/1 way.
Places you should visit:
1. Vien Minh Pagoda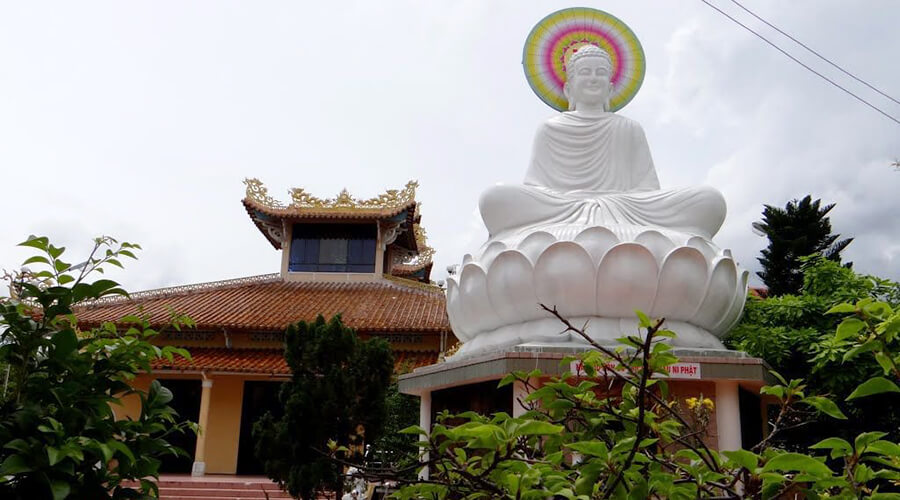 The Vien Minh Pagoda located at 156 Nguyen Dinh Chieu, Ben Tre city. Its present architectural style is the result of the restoration from 1951 – 1959. The pagoda is the office of the Executive Committee of Buddhism in Ben Tre. A 3m high statue of Avalokitesvara Bodhisattva and 7m high Shakyamuni Buddha statue standing in front of the pagoda.
2. Vam Ho Bird Sanctuary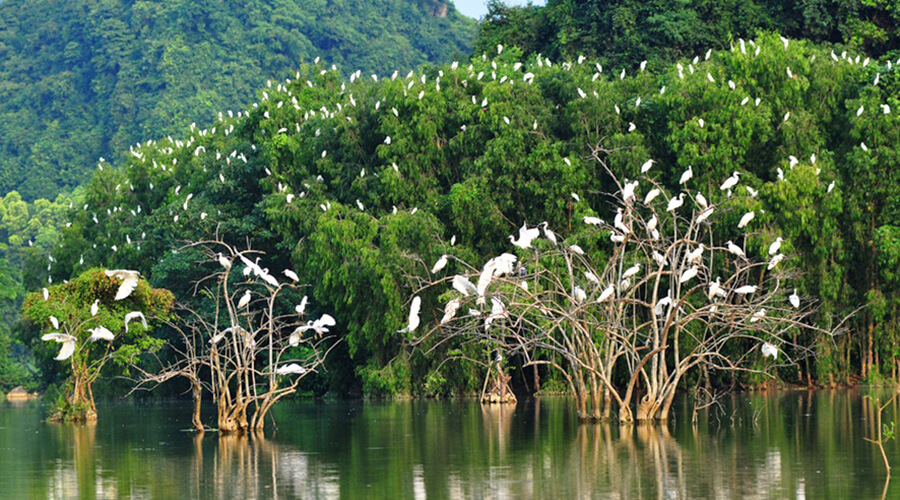 The Van Ho bird Sanctuary is a famous tourist attraction that lies in the area of two communes My Hoa and Tuan Xuan, Ba Tri district. The Sanctuary is 52 km from Ben Tre city. Visitors can go either by land routes or boat to discover Vam Ho. It is home to thousands of storks and herons and many other types of birds. Van Ho covers over 40ha, of which 16 ha are primitive date forests. The people in Ba Tri plant over 7 ha of mangroves by the date forests. They dig calls to take the water of the Ba Lai river into Vam, thereby dividing the sanctuary into five parts. They also build an anti- forest fire dam around the sanctuary to protect the birds.
On the two banks of the Ba Lai river and inside the bird sanctuary, there is a luxuriant flora, of which dates and mangroves predominate. The storks make their nests on thorny date trees while perching on mangroves after bathing.
After 16 pm or 19 pm every day, interesting events take place. Thousands of storks coming home, nearly whitening all the treetops. Meanwhile, the herons begin their night searching for food. Besides white storks, Vam Ho boasts many other types of  st0rks as well as bats, snakes, weasels, and pythons. You may find themselves get lost in the worlds of birds, with various shapes and sounds.
3. Phung Islet (Con Phung)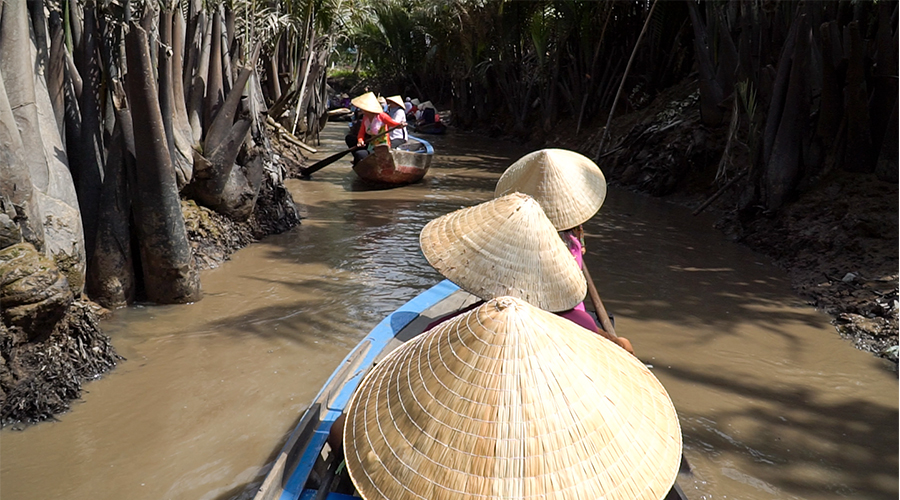 Phung Islet is located in Tan Thach commune near Rach Mieu bridge. Visitors can see the relic 1,500m2 of the Coconut Religion (Đạo Dừa) with original architeture including 9-dragon yard, Hoa Binh (Peace) tower, ect. The site was placed Mr. Dao Dua (1910 – 1990) practiced his belief before 1975. 
This islet is famous for its lush array of fruits, especially coconuts, but also for the delicious specialty dishes of southeastern Vietnam. Visitors can reach the islet by boat. After taking time to the islet, they can continue to ride along the river, visiting the handicraft and coconut candy factories, and disembark to catch a coach to tropical gardens. Visitors can rest under a canopy of coconut leaves, sip tea with fresh honey and blueberries while listening to the beautiful melodies of traditional music.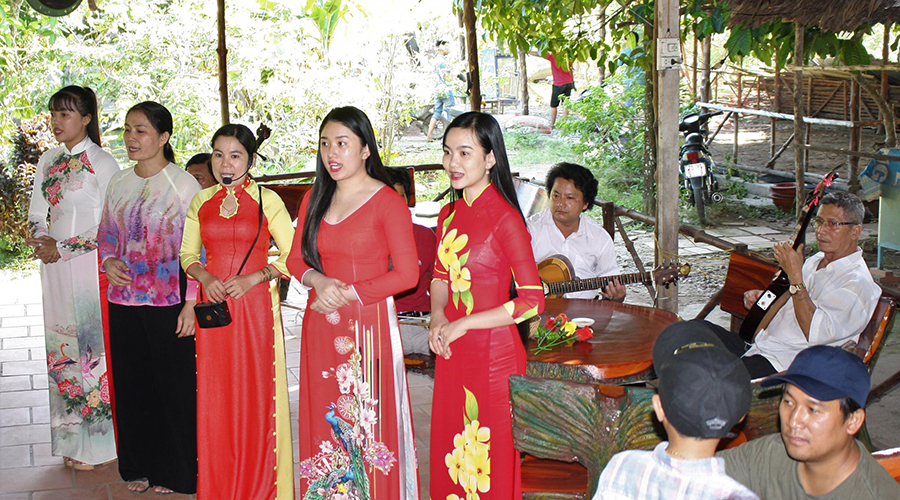 Fortunately, the relic remains intact on the 9 Dragons Ground, where cardinals would give speeches. There is also an enigmatic tower made from pieces of broken plates, bowls and cups of the followers.
Also, the daily lives of residents are centered around making handicrafts from the coconut tree. Visitors who come here can witness the process of making coconut candies and other souvenirs, and pick something to take home as a present.
Due to the high quality and specialty of coconut products on Phung Islet the prices are a bit higher than elsewhere, but this quality cannot be found anywhere else. If travelers feel hungry, they can eat with local residents who will serve their everyday meal of simple but delicious foods. Weary travelers can also have a nap under the shadow of garden trees, or take part in exciting activities like photographing ostriches or watching crocodiles!
Do you want to join 1 day tour to Con Phung from Ho Chi Minh? Please click here
4. Can Mon Ornamental Plant Garden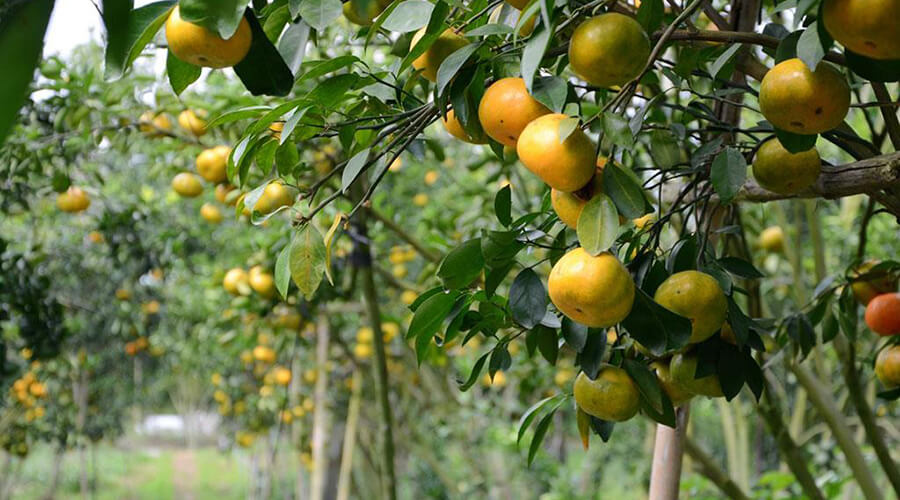 The Can Mon Ornamental Plant Garden lie along two banks of the Cai river. The village is famous for its tradition of growing fruit trees and shaping ornamental plants of various kinds of from the locality, the North, or from Thailand.
At present, the households in Cai Mon develop the craft of breeding fruit trees. They provide millions of strains for the market, including the durian, mango, mangosteen, longan and many more. 
Can Mon is home to artisans who can turn ornamental plants into beautiful figures of dear, dragon, phoenix and so on. Many kinds of Cai Mon bonsai are exported to Southeast Asian markets.
6. Oc islet (Con Oc)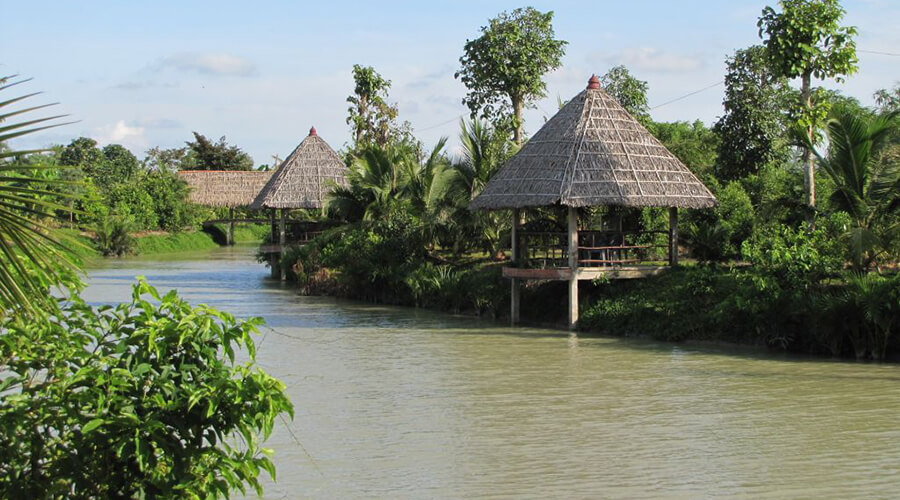 Oc Islet offers a diverse tourism program that allows visitors to learn more about the daily life of the people who live in this region. Visiting this Islet, you will have many exciting experiences such as boating to contemplate the "coconut market" on the river, cycling around the village, observing daily activities of local people, admiring the typical ancient house of Mekong River Delta, visiting facilities producing handicraft products from coconut, etc. 
If you simply want to have an escape in a tranquil place with beautiful landscapes and eye-catching scenery, then Oc Islet will not make you disappointed!
7. Ham Luong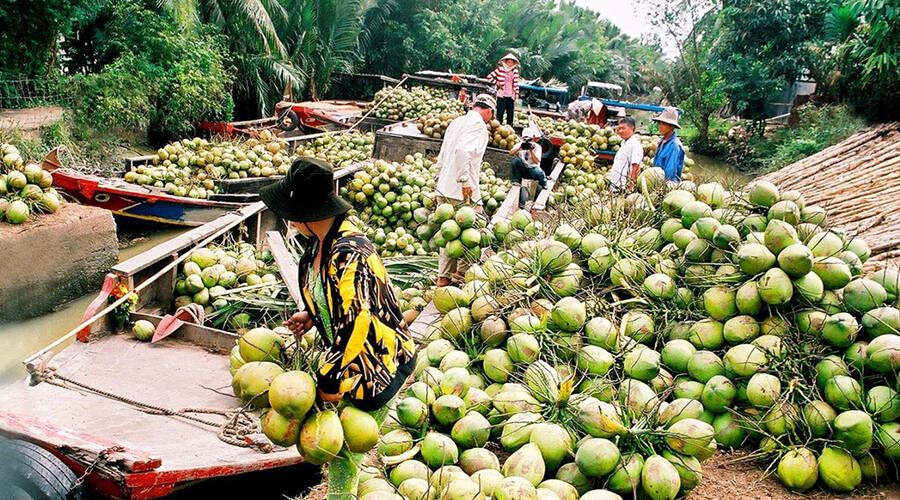 Cruising along Ham Luong River allows you to observe the lush tropical islet and relish the cool breeze here. Not only that, the trip is a great chance to visit traditional workplaces where locals make their own products from coconuts, such as activated charcoal, brooms, and souvenirs. It is difficult to express how comfortable and delightful you will be while being rowed under the shadow of palm trees on the calm water by a small boat. It is definitely an amazing activity you must try, so a premier group tour to Ham Luong should be included in your journey to Vietnam.
If you want to book 1 day tour to Ham Luong from Ho Chi Minh, please click here.
8. Rice paper cake villages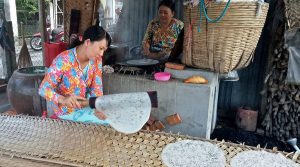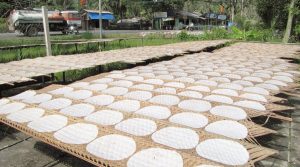 For the moment, the Banh Trang and Banh Phong (rice paper cakes) in My Long and Son Doc, Giong Trom District, are best known for their fine taste.
Though the main materials to make these cakes are husked rice and sticky rice, the makers of the cakes seem to hold their know-how in secret and resolute in keeping them from being leaked to outsiders.
They are also keen to update secrets to produce finer and finer cakes to serve to modern customers around the world.
9. Ben Tre Museum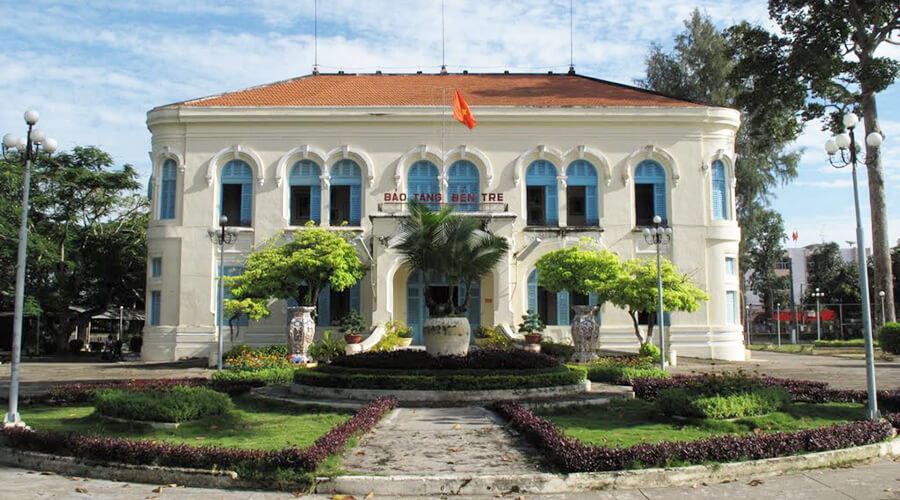 Set in a classic two-story yellow building with blue shutters and white detailing, the grand tree-filled grounds here are a favorite hangout for canoodling locals whiling away the slow hours in each other's arms—the Ben Tre Museum is also well worth a look.
It has the usual assortment of rusty weapons and war stuff, including an aircraft, a few bombs and field guns. There is also an interesting photographic display which includes a small archeological part but also a part dedicated to Vietnam's revolutionary struggle.
10. Nguyen Dinh Chieu Tomb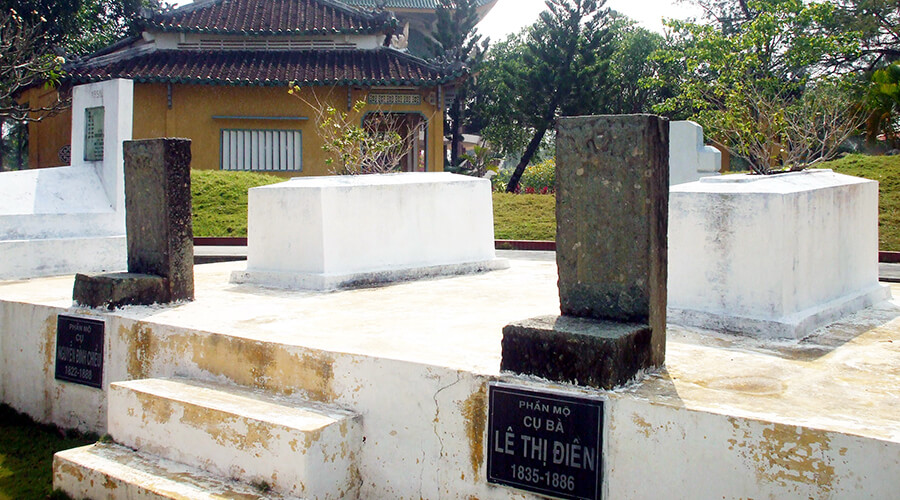 Nguyen Dinh Chieu was born in what is now District 1 in Ho Chi Minh City. He was the son of a poet and government official. There were uprisings by poor farmers and ethnic minorities against the corrupt Royal Court in Hue and his father participated in this. Therefore he was fired and had to flee. He went to Hue with his family. The eight years living in Hue helped him realize more clearly the political complications as well as the dark side of the Royal Court. At the same time, he also had chances to absorb the national cultural traditions. 
After his mother died, he contracted an eye infection and went blind. Despite these hardships, Chieu was committed to helping people. He opened a small school to teach students moral principles and was also a popular medical practitioner in Gia Dinh.
He then moved to live in Can Giuoc, Long An province and finally Bao An district, Long An province (now Ba Tri district, Ben Tre province) where he passed away.
Nguyen Dinh Chieu was a patriotic teacher, doctor and poet of the south of Vietnam in the second half of the 19th century.
The poet's two most famous poems are "Luc Van Tien" (The Tale of Luc Van Tien) – one of the two most celebrated Vietnamese epic poems, along with Nguyen Du's "The Tale of Kieu" – and "Van Te Nghia si Can Giuoc" (Funeral Oration for the Partisans of Can Giuoc).
To recognize his contributions to the nation, a temple was built in Ben Tre in his honor in 1972. The site was recognised as a national relic site in 1990. It was re-built in 2000 on an additional land area of 13,000 sq.m where there sits the tomb and monument of the late poet.
Warmest Greetings To All from Viet Dream Travel! We offer Vietnam tours (daily and package tours), visa services, and transfer services throughout the country. Let us have a chance to show you Vietnam to the fullest. If you have any questions about Vietnam tourism, do not hesitate to contact us at:
Office number: (028) 3838 8322
Hotline/SMS/Whatsapp/Viber/Zalo (+84) 902 795 056 – (+84) 918 709 338
Or info@vietdreamtravel.vn – visa@vietdreamtravel.vn
Best regards,
Vietdream team.
---