Tien Giang not only has fruit gardens and charming river scenery but is also a land of many famous sacred spiritual tourist attractions, attracting a large number of tourists from all over. Recently, young people became 'feverish' because of a check-in point with extremely shimmering pictures. That is Truc Lam Chanh Giac Zen Monastery, one of the largest Zen monasteries in our country.
General information about Truc Lam Chanh Giac Monastery
Truc Lam Chanh Giac Zen Monastery is located in hamlet 1, Thanh Tan commune, Tan Phuoc district, Tien Giang province. With less than 02 hours of driving, it can be said that the road from Ho Chi Minh City to the Zen monastery is not too far or difficult to travel. Besides, on the roads, especially when you reach Tien Giang, there will be signs showing the way to the Zen monastery. In addition, you can also ask for help from local people or the Google Map application. And if you travelling with a group or with your family members, a private car to Tien Giang would be the best option. 
This is a pagoda built in 2012 according to the traditional model of the Truc Lam Yen Tu sect, which is affiliated with the Vietnam Buddhist Sangha. Since its inauguration, in addition to becoming a study centre, the Zen Monastery has also created an important highlight to attract visitors to Tien Giang tourism.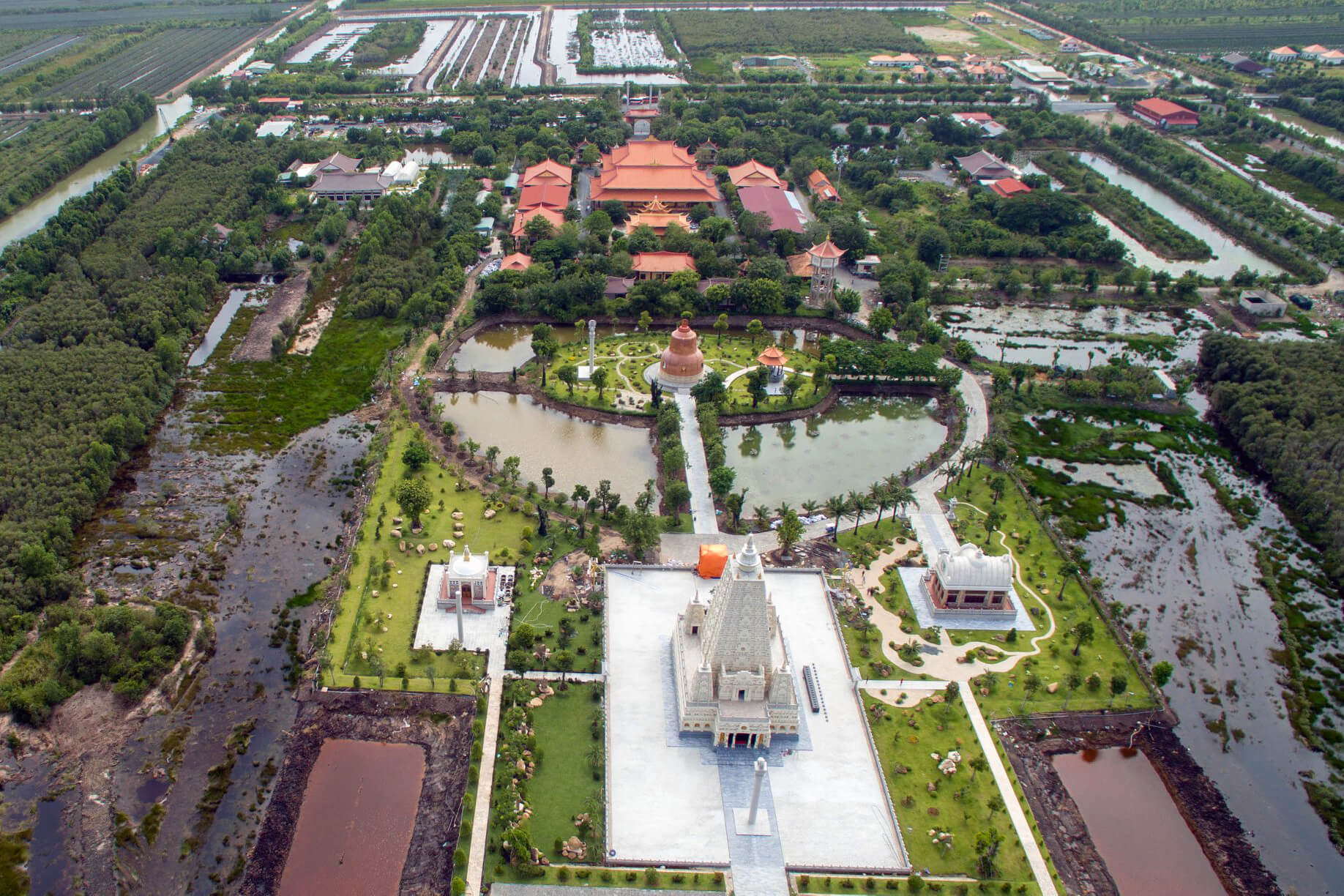 In addition to being open to Buddhists and tourists to visit and worship, Truc Lam Chanh Giac Zen Monastery regularly organizes activities for Buddhists. Among them, there are two outstanding activities of the Zen monastery:
On the third Sunday of each month, the Zen monastery will organize activities such as chanting sutras, penance, listening to dharma lectures, meditating,…

Every 2 months, the Zen monastery will hold a ceremony to transmit the three refuges and five precepts to Buddhists.
Special features of the Zen Monastery
Truc Lam Chanh Giac Zen Monastery is one of the largest Zen monasteries in the country with a total area of 50 hectares, including the original 30 hectares and 20 hectares later donated by Buddhists. It has become one of the magnets that attracts people, especially Buddhists from all over the country.
Truc Lam Chanh Giac Zen Monastery was completed after 5 years of construction. In 2016, the project was basically completed with a spacious, ancient beauty but no less modern and impressive.
The monastery is divided into two separate areas: the inner courtyard and the outer courtyard. The outer courtyard area includes many items: Main Hall, Meditation Hall, Lecture Hall, Library, Exhibition House, Bell Tower,… with a total area of more than 47,000 square meters. In particular, the main hall of the Zen Monastery can accommodate more than 3,000 people. This is also the reason why the monastery has become one of the largest pilgrimage destinations in the province, next to Linh Thuu Pagoda with an equally peaceful and solemn landscape.
An interesting point is that Truc Lam Chanh Giac Zen Monastery has a design that has some similarities with Truc Lam Zen Monastery in Da Lat. In addition, to complete the entire campus of the monastery, a large campus with many giant trees and giant boulders throughout the campus.
The important highlight in the entire architecture at this Truc Lam Chanh Giac Zen Monastery is the four Holy Relics (also known as the Four Hearts) built in a 6/10 ratio with the prototype relics in India and Nepal.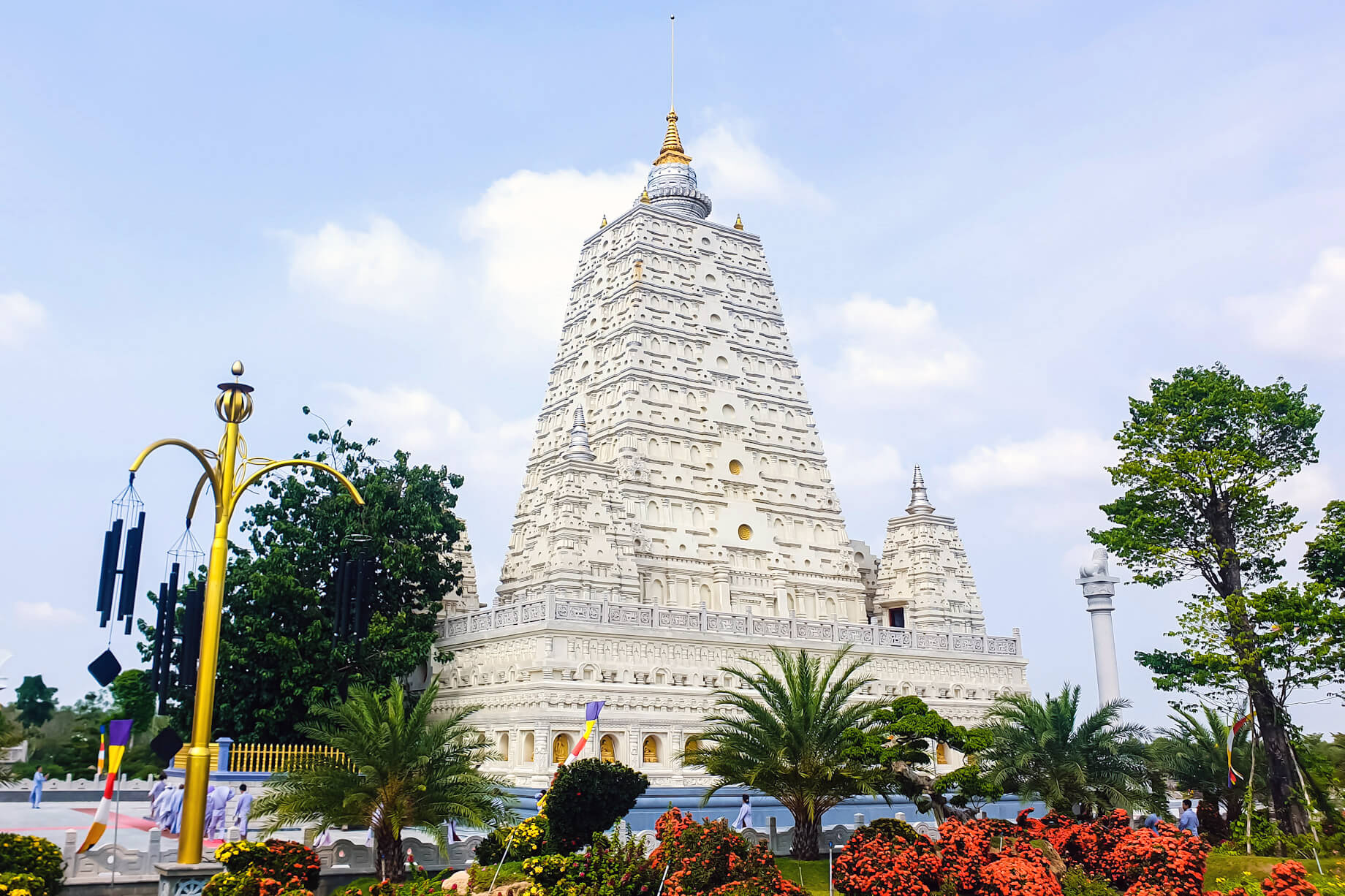 These four relics include Lumbini Garden, which is where Buddha was born; Bodh Gaya, where Buddha attained enlightenment; Sarnath Deer Park, where Buddha turned the wheel of Dharma, and Kushinagar, where Buddha passed away.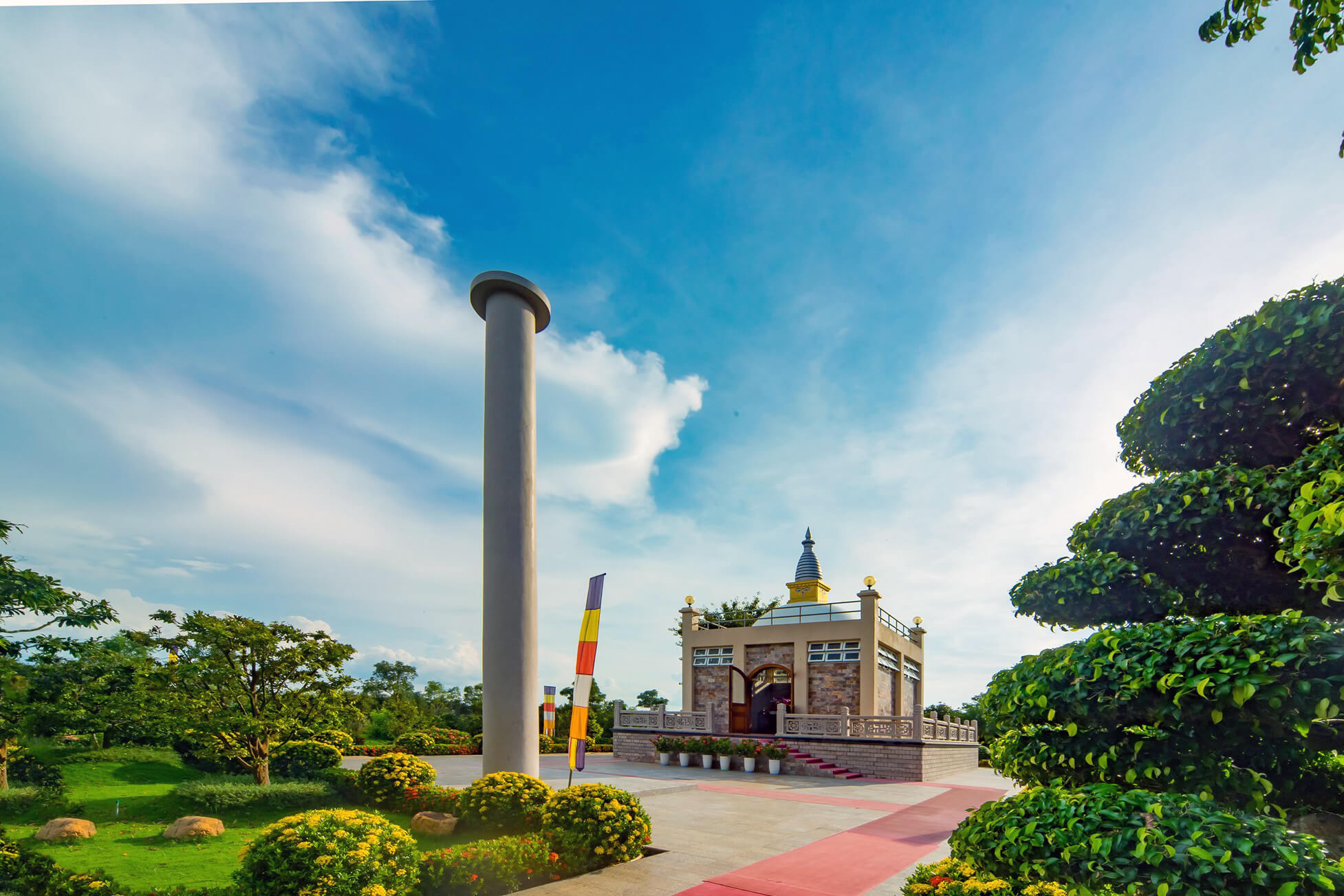 In addition, there is also an area called Dai Giac Tower built in the same proportion as the four Holy Relics, with an impressive height of up to 31 meters. Meanwhile, in the central area of the monastery, a 25-meter-high fake mountain is built to support the main hall and main hall area.
Notes when visiting Truc Lam Chanh Giac Zen Monastery:
Truc Lam Chanh Giac Zen Monastery is a pure spiritual destination. Therefore, when coming here you need to note the following:
Dress politely and discreetly, and avoid wearing clothes that are too short or revealing.

Walk lightly, speak softly, and limit loud talking and mischief.

When visiting, worshipping Buddha or sightseeing, you need to maintain a respectful attitude and avoid joking.

Protect the landscape, do not write, engrave words or cut branches or pick flowers to affect the general landscape.

Do not take photos inside the main hall.
With unique, pure, large and "perfect" architecture, Truc Lam Chanh Giac Zen Monastery is an ideal destination that you should not miss when coming to Tien Giang.
Truc Lam Chanh Giac Zen Monastery is one of the largest Zen monasteries in Vietnam. As a Buddhist, you should not miss the opportunity to come to this Zen monastery. Do not forget to contact us if you need a visa to Vietnam to visit the temple or visit Tien Giang. 
---