Vietnamese people wake up quite early, around 5 – 6 am, to prepare for their breakfast before going to work. Therefore, the countless number of food stalls and restaurants have been opening, throughout the country, to serve this demand. Here are the top list of best foods for breakfast in Vietnam and plan to eat all of them in your visiting Vietnam.
1. Pho
Listed on " The world's 50 best foods", CNN updated and republished in 2017, Pho is arguably the single most famous dish in Vietnamese cuisine.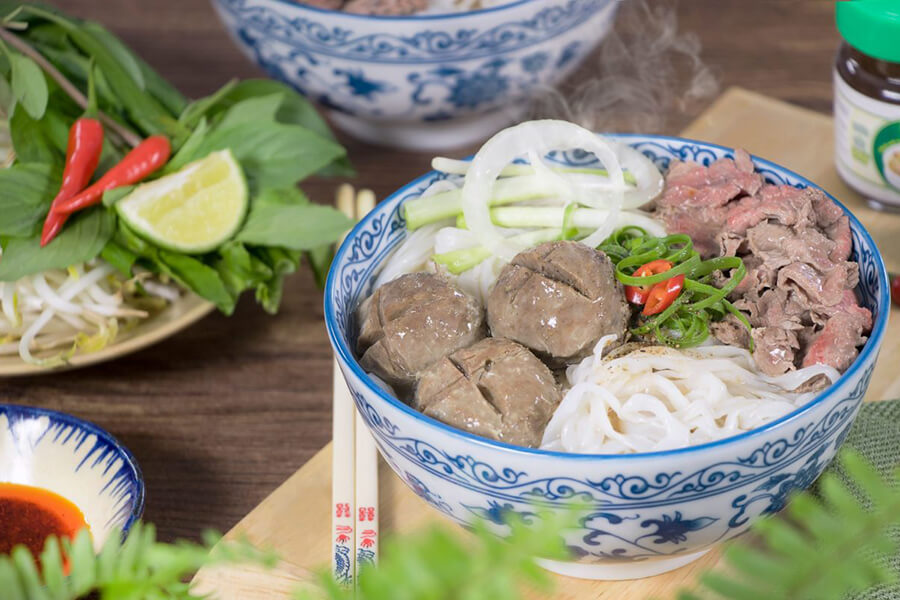 The main ingredients of pho are noodles and fresh rice noodles, a few herbs, and usually chicken or beef. Also accompanied by spices such as soy sauce, pepper, lemon, fish sauce, chili… consider a taste — you won't regret trying one of the best foods in Vietnam.
2. Vietnamese bánh mì
The bánh mì introduced to Vietnam by French colonists in the late 19th century. It is an airy and crunchy French-style baguette, stuffed with an every varying combination of meats, vegetables, and sauces. But the most important thing about bánh mì is the bread. It has to be fresh, crispy on the outside, soft on the inside.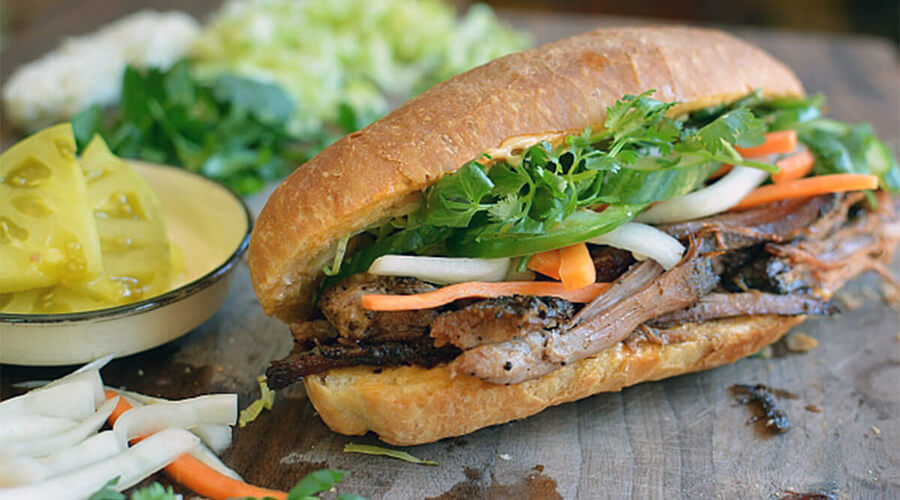 From all over the country, it easily comes across many shops selling bánh mì. If you are not careful, you may be addicted to this dish!
3. Cơm tấm – Broken Rice
Cơm tấm is a familiar delicacy of Saigon. A plate of cơm tấm consists of cooked rice from broken rice, usually be covered with a slice of grilled pork, spring rolls, eggs, vegetables, etc. served with fish sauce. Although the cooking recipe is not too picky, with a taste of cơm tấm makes it famous and familiar to local people.
4. Xôi – Steamed sticky rice
Xôi, made from glutinous rice and other ingredients, is a common breakfast dish in Vietnam. There are 02 types of Xôi: savory (fried fish; chicken; or meat floss and boiled quail egg..) and sweet (corn, sugar, fried onions, beans, coconut, smashed cooked mung beans..). Therefore, it is suitable for vegetarians as well.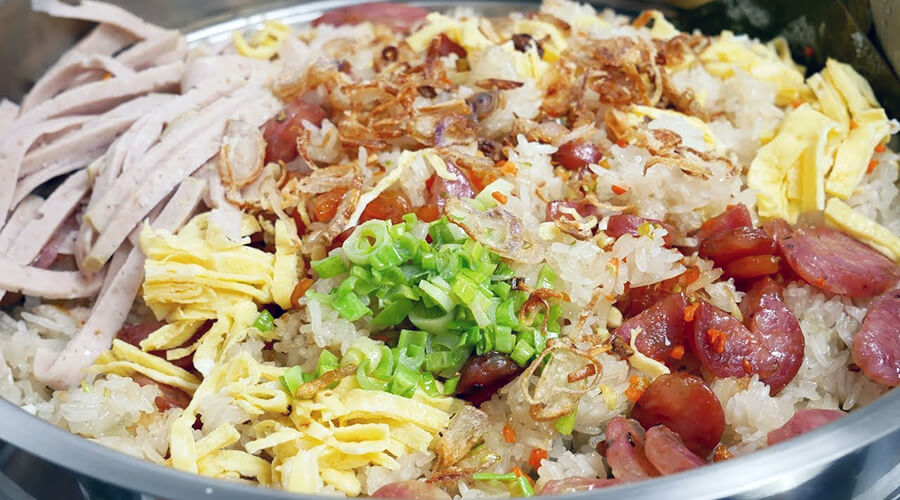 5. Bún Bò Huế – Hue beef noodle soup
There are many types of noodles in Vietnam but bún bò Huế is a very different dish, originating from Hue in Central Vietnam. In many big cities such as Hanoi, Ho Chi Minh City, Nha Trang, Hue, Da Nang… this dish is very popular.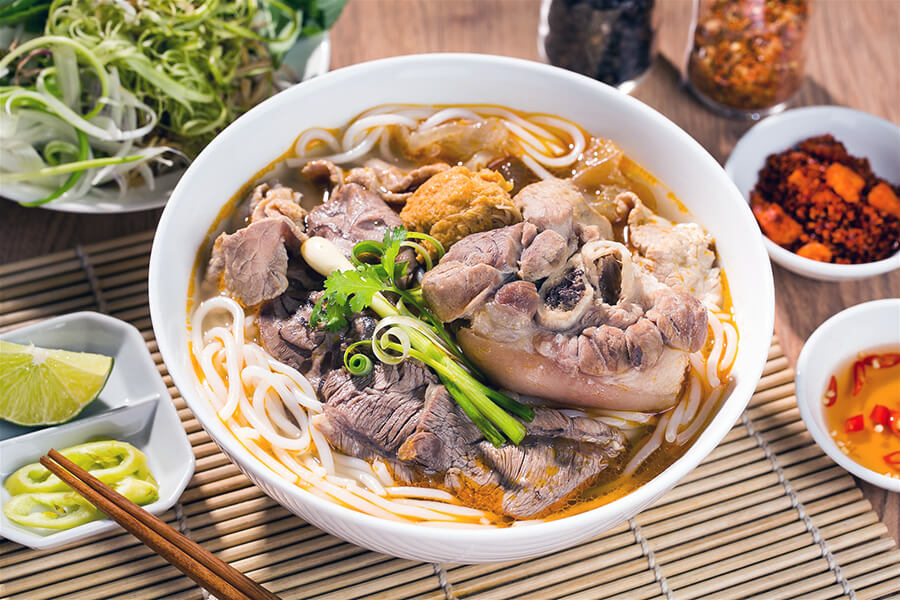 Bún bò Huế is picky and quality. The standard of the bún bò huế can make you confused because of the number of meats, sources, and vegetables are too plump, especially the large part of pork or beef.
6. Hủ tiếu – clear rice noodle soup
Soups are always a priority for breakfast in Vietnam. Hủ tiếu comes from Cambodia, but there are many diverse and attractive variants such as beef noodle soup, beef noodle soup, squid noodle soup and the most famous is hủ tiếu Nam Vang – Phnom-Penh clear rice noodle soup. This type of noodle is mixed with flavored with pork bones, sugar, and sweet fish sauce.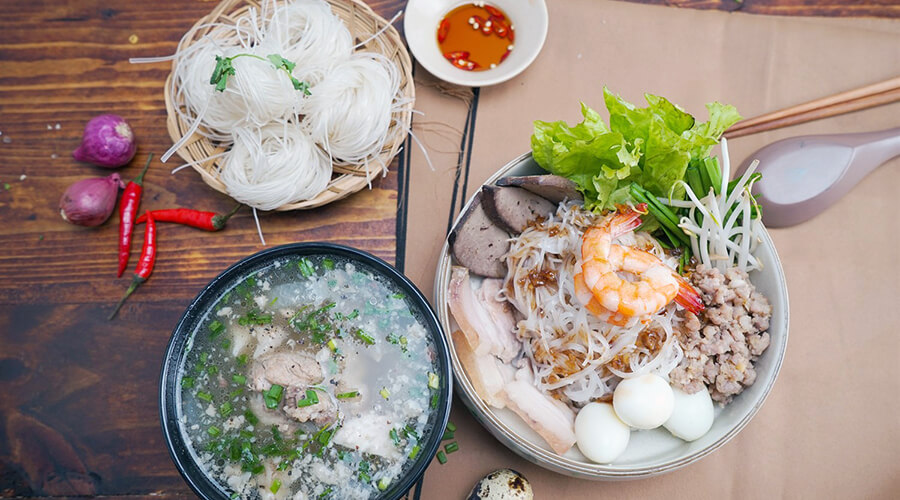 7. Bánh Bao – Steamed wheat flour cake
Bánh bao is made from the main raw material of soft, spongy rice flour wrapped on the outside and inside will usually be minced meat, quail eggs, salted eggs.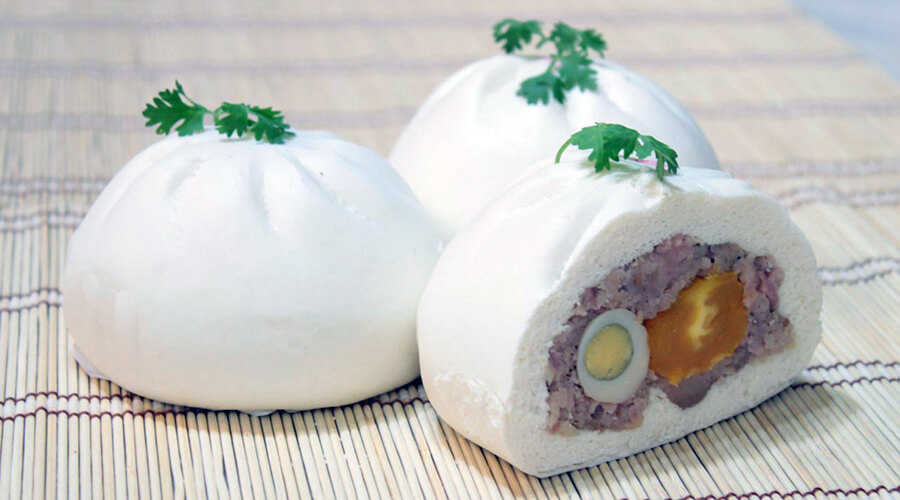 If you're vegetarians, you can choose bánh bao which made from rice and beans without meats.
8. Cơm chiên – fried rice
Dương Châu fried rice, egg fried rice, seafood fried rice … often used by Vietnamese people for breakfast. No need to go out to buy, just wake up a little early and you can also prepare yourself a delicious, nutritious dish. A piece of cold rice, an egg is already able to help you have the perfect breakfast for the active new day.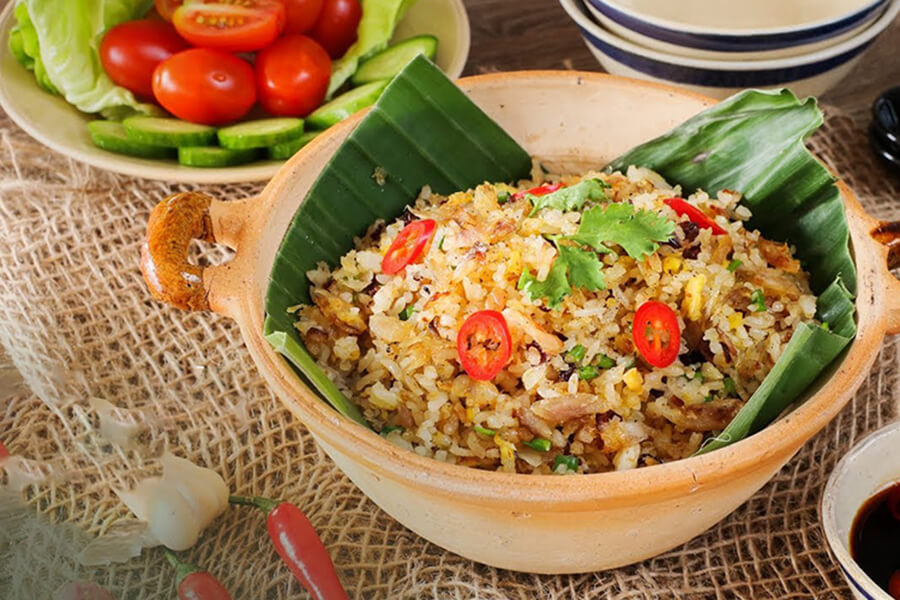 9. Cháo – Rice congee
Cháo is a type of rice porridge. It not only simple breakfast food that can be eaten with pickled vegetables, mushrooms, or tofu but also a popular main dish. While preparing this food, Vietnamese usually add some ingredients such as meat (chicken; duck; pork; beef or a variety of offal from pork or duck…); fish, and flavorings.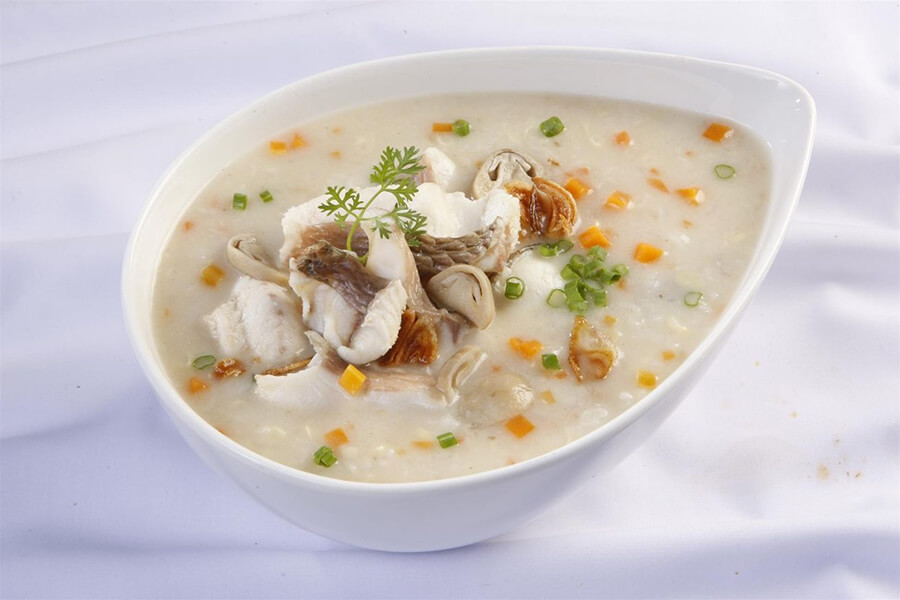 It's really healthy for your stomach when you're ill.
Explore more of Vietnam with Vietdream travel. Compare tour itineraries, book a transportation or accommodation for your trip and don't forget to check about visa policy before you go.
---