Da Nang lies on the coast of the East Sea at the mouth of the Han River. It has a well-sheltered, easily accessible port since many centuries ago.Thanks to its increasingly important position and role in the Central region, Da Nang has developed and designated as a first-class city which has been attracting a lot of tourists to come to live and visit.
What is the best time to visit Da Nang?
Da Nang has a tropical monsoon climate with two distinct seasons: a dry season from January to the end of August and a wet season from September to December.
The highest average temperature is at 35°C, lasting from May until September, made Da Nang becomes a popular retreat among locals, so expect large crowds. From average temperature from January to April is at 25°C with sunny skies and low humidity levels, this would be the best time to explore the city or enjoy the beach.
Tourist spots in Da Nang
My Khe beach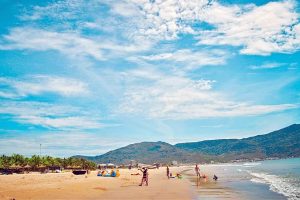 My Khe beach is one of the most beautiful beaches in Central Vietnam. It is approximately 10km long, lasted from the base of the Son Tra Peninsula to the Marble Mountains (Ngu Hanh Son), and has fine white powdery sand, gentle waves. The beach is also famous for its blue sky, smooth white sand, gentle slope, clear & warm water, especially from January to September.
With the lack of large waves, associated with the effort of the local government such as keeping the beach clean, safety for visitors, free admission for tourists, great accommodations…My Khe Beach is an ideal and safe place not only for adults but also for children to swim, enjoy magnificent scenery and games on the beach.
Located: just 5km from Da Nang city center and 25km from Hoi An.
Son Tra Peninsula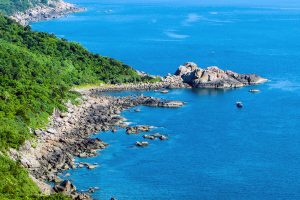 Son Tra is the name of a peninsula and a mountain in Son Tra district (named after the peninsula), located about 10 km from the city center. Son Tra peninsula along with Hai Van pass surrounds Da Nang city and Danang Bay. Because of its location, Son Tra is like a stele to shield Da Nang from natural disasters coming from the sea. It's also historical remains and natural ecological region rising nearly 700m high from the sea level. At the foot of Son Tra Mountain, there are many unspoiled and beautiful beaches such as Bai Rang, Bai Da, Bai But, Bai Bac, Bai Xep…Son Tra is also a primary forest, a home of many kinds of precious and rare animals such as stag, monkey gibbon, Cha Va, red face cook… Therefore, this is an ideal place to develop sports tourism such as sea diving, stream bathing, fishing, and climbing…
Linh Ung Pagoda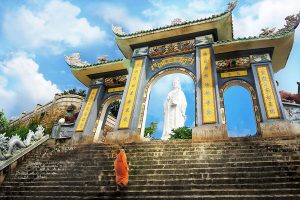 Linh Ung Pagoda – Bai But, Son Tra, Da Nang is one of three temples that has the same name in Da Nang. The pagoda is located 10 km northeast of Da Nang city center, at 693m above sea level, facing the sea on the cliff of Thuy Son Mountain.
The most prominent feature in the architectural complex of Linh Ung – Bai But Pagoda is the 67-meter-high statue of
Bodhisattva, 35 meters in diameter of the lotus, overlooking the sea. In the heart of the 17-storey statue, each floor has an altar totaling 21 Buddha statues with different shapes. At night, this statue is prominently illuminated against the sky. From the temple courtyard, visitors can enjoy a panoramic view of the city, mountains, and sea around Da Nang.
Hai Van Pass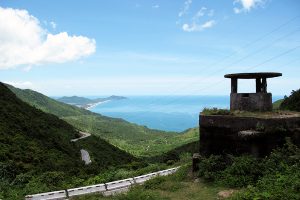 Hai Van Pass is also known as Ai Van Pass or May Pass (because the top of the pass is often covered with clouds), 500 m high compared to sea level, 20 km long, across the Bach Ma mountain range in the middle of the border between Thua Thien Hue and Da Nang.
Today, on the top of Hai Van pass, there is still a trace of a gate. This gate is called Hai Van Quan, built in the Tran dynasty, and was restored in the Nguyen dynasty (1826). Standing here, you can admire the beautiful view of the sea in a distance. On have the sensation of being in a paradise of clouds. Hai Van Pass has been a source of inspiration for many poets.
Museum of Cham Sculpture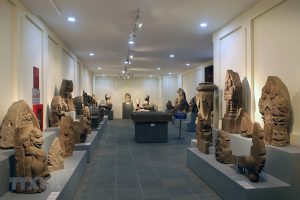 Da Nang Museum of Cham Sculpture is the largest museum exhibiting Cham artifacts in Vietnam. This museum was built in 1915 by the French. In 1936, the Museum was expanded and opened to the public in 1939. It has a total area of ​​6,673 m², of which the exhibition area is 2,000 m². The total number of art objects on display at the museum is up to about 500 items and are divided into 10 rooms corresponding to the geographical areas where they were discovered including the My Son, Tra Kieu, Dong Duong, Thap Mam, Quang Tri, Quang Nam, Quang Ngai, Kon Tum, Quang Binh and Binh Dinh.
The compound of the museum blends harmoniously with the local landscape which gives tourists a chance to relax and feel immersed in the golden past of Cham civilization.
Location: No 2, Road 2 thang 9, Binh Hien, Hai Chau, Da Nang.
Temple of Caodaism in Da Nang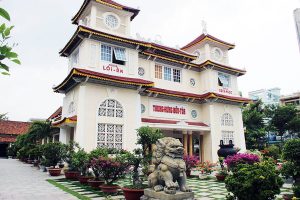 Cao Dai religion was born in 1926, originating from Tay Ninh. During the period between 1934 – 1960, Caodaism developed strongly and many temples were built from the south-eastern area to Hue.
In 1956, a group of followers built the Trung Hung Buu Holy See at 63 Hai Phong, Da Nang city. It is exactly like the miniature replica of the one in Tay Ninh.
The temple has 03 doors, Caodaist dignitaries go to the middle door, the two sides have two smaller doors for men and women separately. The altar is dedicated to the Left Eye shining on the earth. On the upper side, there is a picture of the meeting in heaven of the five first leaders of the world's major religions: Lao Tzu, Buddha Shakyamuni, Jesus Christ, Confucius, and Mohammed.
In the temple, the Caodaist dignitaries pray four times a day, at 6 am noon, 18 pm, and midnight.
Location: 63 Hai Phong, Thach Thang, Hai Chau, Da Nang.
Marble Mountains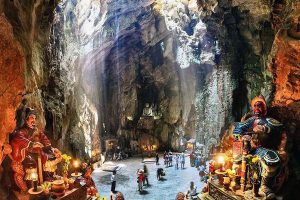 Marble Mountains also called Ngu Hanh Son (five elements mountains) is a cluster of five marble and limestone hills located in Ngu Hanh Son District, approximately 8km south-east of Da Nang city, close to the sea. The five mountains were named by King Minh Mang (a King of the Nguyen Dynasty) according to five elements of nature: Kim (metal), Thuy (water), Moc (wood), Hoa (fire), and Tho (earth). Of the five mountains, Thuy Son is the largest and the most beautiful, making this a tourist destination. The Marble Mountains was officially given the National Special Relic certificate by the Ministry of Culture, Sports, and Tourism on January 20, 2019. It also shelters Tam Thai Pagoda, as well as Linh Nham, Van Thong, Tang Chon, and Huyen Khong grottoes.
Tam Thai Temple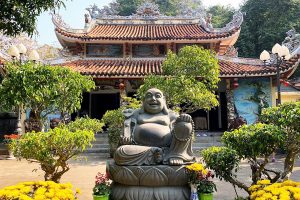 Tam Thai Pagoda is located on Thuy Son mountain, Thuong Thai peak, belonging to the scenic Marble Mountains. This is an ancient temple that is considered the national temple and Buddhist relic. Tam Thai pagoda was built in 1630 and has been restored several times.
The Tam Quan ancient gate with moss-covered walls in front of the pagoda consists of 3 entrances. Under the regulation of feudalism, the main entrance (the highest and most important one) in the middle was for king, mandarins, monks, on the left for men, on the right for women. In front of Tam Thai pagoda is a large yard with tall trees spreading shade all over the yard. Tam Quan Gate is made in the style of a bell-roofed floor, which looks very old.
Pho Dong Tower, Tu Tam Pagoda, and Vong Giang Dai are located close to the pagoda. From Vong Giang Dai, visitors can see the Cam Le river meandering through the fields of Hoa Dang district. On the left of Tam Thai Pagoda, is Huyen Khong Grotto which has a fresh air chamber and numerous stalactites.
Tang Chon Grotto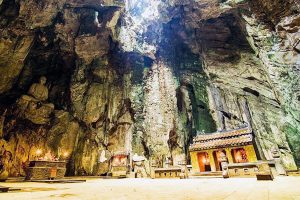 The grotto is located in the back of Linh Ung temple, on Thuy Son Mountain. It's divided into 3 caves and 3 dynamics. From the outside, through a stone door is a Linh Dong Chon Tien temple. An altar of Siddhattha Gautama stands in the middle of the grotto, an altar dedicated to Eight Immortals on the left and one dedicated to the god of Chiem Thanh on the right. Light through "Thien Long window" makes the grotto become more beautiful. There are five smaller grottos including Tam Thanh, Gio Cave, Chiem Thanh, Ban Co, Ray Cave. In the middle is Tam Thanh grotto, there are two Dharmapāla statues built at the entrance. Inside the grotto, there are two statues of Siddhartha Gautama, one is meditating and another one is lying. Beside Tam Thanh is Gio (Wind) cave, also called Than Thuong cave, it's windy all the year around. Chiem Thanh Grotto has a shape semi-circular, dedicated to the gods of the Cham people. Ray cave, also called Doi (Bat) cave as many bats living, has five-color stalactites. Ban Co (Chessboard) was legendarily a place where fairies come to play chess on the stone set of table.
Non Nuoc beach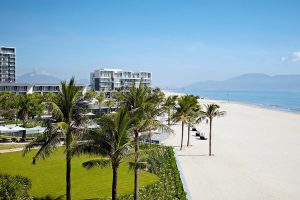 Non Nuoc Sea is located in Hoa Hai Ward, Ngu Hanh Son District, Da Nang City. This place is about 8 km from the city center to the southeast. The beach stretches for 5 km, with clean and white sand to the north and the south of Ngu Hanh Son.
Although it was taken into tourism exploitation many years ago, this beach still retains its inherent beauty with an unspoiled environment. With the calm wave, it really suitable for tourists who like to have a sea-bath and sunbathe. Lifeguards are always here for security reasons and emergencies. This is a perfect place to relax and bathe.
Non Nuoc Marble carving village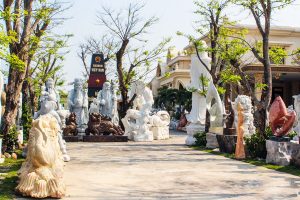 The marble-carving handicraft located at the foot of Ngu Hanh Son Mountain is the famous traditional village of Da Nang city with fine art stone products. It was formed in the 18th century. The first person to set up the village and created a carving job was Mr.Huynh Huynh Quat. The raw materials are obtained from marble mountains. Then, they will be sketched, carved, and polished to achieve the final products. Products from craft villages are diverse and rich,
from common rudimentary items of life ordinary life like a pestle, the mortar … to sophisticated jewelry, Buddhist and saint statues, animals and bracelets…
Phong Nam ancient village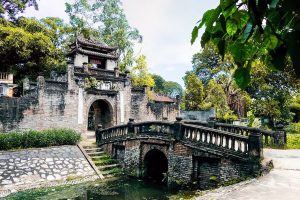 Phong Nam ancient village is located in Hoa Chau commune, Hoa Vang district, city. Danang, about 10 km southwest of Da Nang city center and on the direction of National Highway 1A. This is one of the few villages that still retains the characteristics of a traditional Vietnamese village such as communal house, temples, shrines, pagodas, wells…The village is also surrounded by green rice fields and bamboo rows that make Phong Nam become a popular spot who want to discover a traditional Vietnamese village.
Ba Na – Chua mount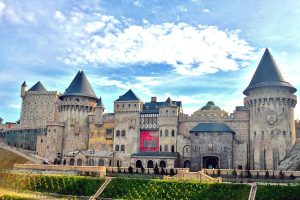 Ba Na – Chua Mountain is located about 25km southwest of Da Nang city center with the average temperature is varying between 18 – 20 degrees. One particular characteristic is that the clouds are at the mid-height of the mountain, so the peaks are always clear. Chua mount also possesses very beautiful forests with green pine hills.
Ba Na Nui Chua mountain resort has a rich and diverse fauna and flora system. The vast primeval forests are home to 256 species of animals, including 61 species of mammals, 178 species of birds, and 17 species of reptiles. The flora here has 543 species including 136 families and 379 genera. Chua mountain is also home to many rare and precious animals, such as the crested argus, the Asian black bears, the red-cheeked gibbon…
Nowadays, to serve the needs of the tourists, many bungalows, villas, and hotels sprung up along the slopes, on top of Chua Mount. With a modern system of cable cars, it helps visitors get a panoramic view, very miraculous and attractive while enjoying the feeling of flying in the blue sky amidst the clouds and wind. Ba Na by night is also more wonderful. There are also regular campfire nights, promoting mountain specialties and creating conditions to help tourists go on picnics.
Vietdreamtravel provides daily and package tours, car/bus rental services and visa to Da Nang for foreign visitors who want to come and visit this city. Do not hesitage to contact us for any support.
---