Hanoi, Vietnamese: Hà Nội, the capital of Vietnam is an incomparable combination of tradition, elegance, and progress. Hanoi means "the hinterland between the rivers". The portion of the Red River embracing Hanoi is approximately 30km long. Hanoi contains 18 beautiful lakes, which are the lungs of the city, surrounding gardens and trees providing a vital source of energy.
Beside many building booms, there is a centuries-old quarter which represents the eternal soul of the city. Most locals and foreigners often call it "Hà Nội – Ba mươi sáu phố phường" (translated as "Ha Noi – 36 districts" or "Hanoi – 36 Old Streets"), or "Phố cổ Hà Nội" (translated as "Hanoi's Old Quarter").
WHAT TO SEE
Every single natural sight and historical monument in Hanoi is spectacularly related to a legend. The more you know about the stories about Hanoi, the more fascinating you will feel about its history and culture.
Temple of Literature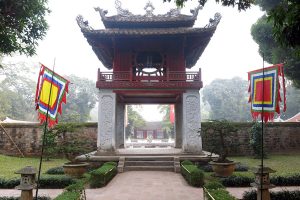 The Temple of Literature was built in 1070 under Emperor Ly Thanh Tong and is a place of worship of Confucius, honors Viet Nam's finest intellectuals and men of literary accomplishment. At this time, the entrance was only granted to the king's son and noble families but after 1442, the Temple of Literature accepted the children of civilians with excellent academic ability.
The current complex of Van Mieu – Quoc Tu Giam relics is located on a 54331 m2 site, including many small architectural works. In the Temple of Literature divided into 5 distinct areas, each area has separated walls and connecting gates.
The first area stretches from the main gate to the Dai Trung gate, the two sides have small gates of Thanh Duc gate and Dat Tai gate; the second from the Dai Trung gate to Khue Van Cac, which has been recognized as a symbol of Hanoi city. You will find doctors' names listed on a stele above tortoise backs in the third courtyard. Each stele was made of stone. There are still 82 steles of the examinations from 1442 to 1779, with names and origins of 1307 doctors. These are the most precious relics of the monument.
The Temple of Literature opens every day.
– April 15th – October 15th: 7:30 – 17:30
– October 16th – April 14th: 8:00 – 17:00
Tran Quoc Pagoda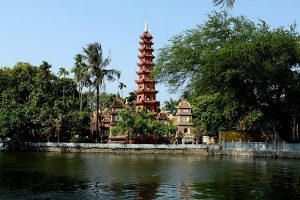 Tran Quoc Pagoda, located on an island in West Lake, is one of the oldest pagodas in Vietnam, after many times of relocated and reparation. The Pagoda constructed in the sixth century during the reign of Emperor Ly Nam De (from 544 until 548). The pagoda has so many architecture works placed very harmonious, specific for the rule of Buddhism architecture.
There are many lotus flower statues locate around the pagoda. These symbolize purity of the mind, body, and speech. The pagoda has a stupa, built-in 1998, consists of 11 floors with a total of 15m hight.  Each tower floor has 6 arched doorways, in each space is a statue of Amitabha Buddha made of precious stones.
This stupa was symmetrically erected with a large Bodhi tree, given by the President of India when he visited Hanoi in 1959, which taken as cutting of the original tree in Bodh Gaya, India under which the Buddha sat and achieved enlightenment.
Inside, there is a precious statue of Sakyamuni Buddha entering Nirvana, which is a masterpiece of Vietnamese sculptural art. A stela dating from 1639 tells the story of this pagoda. At the main shrine, the visitors are given incense to be burned. Visitors to the shrine also give offerings like food or small amounts of money as a present for the gods to give themselves good luck.
With more than 1500 years old, became a symbol of Ha Noi architecture. Nowadays, tourist still comes here not only for ceremonial offerings but also for visiting sites.
The Pagoda opens every day from 04:00–11:30, 17:00–22:00.
President Ho Chi Minh's Mausoleum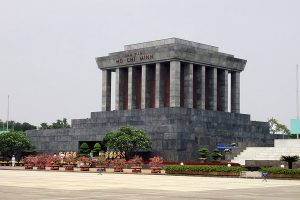 Located in the center of Ba Dinh Square, Ho Chi Minh Mausoleum is one of the most significant historical destinations in Ha Noi. This project was the result of a close collaboration between engineers from the Soviet Union and Vietnam in order to keep the remains of President Ho Chi Minh. The mausoleum is divided into 3 floors. The first one is. a terraced stand exclusively used for grand meetings organize at Ba Dinh Square. The second floor is the center of the mausoleum, where the remains of the president are kept in a chamber, accessible through a series of passages and flight of marble stairs. The upper floors is the roof. The facade f the upper floor bears the inscription "President Ho Chi Minh" in a dark violet precious stone.
The Mausoleum closes two days a week, Friday and Monday. Also, it opens from 7:30 – 10:30 on Tuesday, Wednesday, Thursday, and from 7:30 – 11:00 Saturday and Sunday.
Here are some notes you should take before coming here:
Photography is not allowed inside the mausoleum.
There is no entrance fee to visit but it is very likely that there will be a long queue.
It is not permitted to wear shorts, tank tops, or similar cloths.
The mausoleum is open to the public on Tuesday, Wednesday, Thursday, Saturday, and Sunday.
In the summer, it's open from 8.30 am to 10.30 am in the winter, from 8 am to 11 am.
The hours are extended by 30 minutes on Sundays and holidays. The mausoleum is usually closed from September 5 to December 10th for maintenance.
Hoa Lo Prison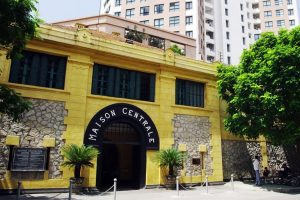 This historical site is located on the street of the same name. Built-in 1896, the French colonialist used Hoa Lo to imprison many patriots and communist prisoners. There were many Communists who were kept and tortured there, some of them are very famous like Nguyen Van Kien or general secretary Truong Chinh.
After the peace was established in 1954, this site was used. By the Vietnamese Government as a jail for criminal prisoners. It was also a place to keep American Pilots during the anti-US war in the North. The museum is open daily, except Monday, from 8 am to 11.30 am and 13.30 pm to 16.30 pm.
The entrance fee is 30.000VND and free for a child until 15 years old.
Co Loa Citadel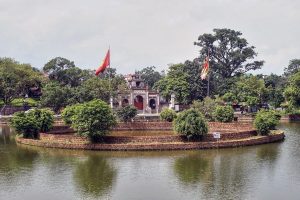 Co Loa Citadel is perhaps the most ancient citadel in Vietnam. It remained an important political center of the Vietnamese people until the 10th century.
According to folklore, it was built by An Duong Vuong in the 3rd century BC to be the capital of Au Lac Kingdom (the name of Vietnam at the time). The site was build according to a helical design and was surrounded by three ramparts and a deep moat.
The remains of the citadel are located on the same site where archaeologists have found tens of thousands of bronze arrowheads, iron axes, and animal bones. Close to the citadel are the remains of Co Loa Communal House, a temple devoted to the cult of Princess My Chau and An Duong Vuong a King who loved his daughter with all his heart but lacking vigilance, left Co Loa and lost both his family and his country.
The entrance fee is 10,000 VND.
One Pillar Pagoda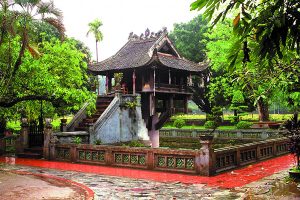 The original name of the One Pillar Pagoda was Dien Huu Pagoda which literally means "long-lasting happiness and good luck". The pagoda is located in the western part of the city on Ong Ich Khiem St., near Ho Chi Minh's Mausoleum. It was first built in 1049, during the reign of Emperor Ly Thai Tong, who had no children, often went to pagodas to pray to Buddha for a son. One night, he dreamed that he was granted a private audience with Buddha. Buddha seated on a lotus flower in square-shaped lotus pond on the western side of Thang Long Citadel gave the king a baby boy. Months later, when the queen gave birth t a male child, the Emperor ordered the construction of a pagoda supported by only one pillar to resemble the lotus seat of his dream in the honor of Buddha. The pagoda is daily from 8 am t 17 pm. There is no entrance fee.
Vietnam Women's Museum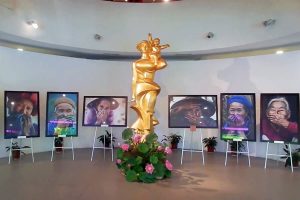 Located in Hanoi in Ly Thuong Kiet Street, near the central Hoan Kiem Lake and the old quarter. This museum is dedicated to Vietnamese women. It was open on the 20th of October 1995 on the occasion of 65 years' birthday of the Vietnamese Women's Association. More than 1000 materials, photos, documents, objects are displayed and carefully preserved and maintained in the permanent exhibition that shows the role the Vietnamese women played in history and currently play in arts and in family life. A museum is also a place for cultural exchange for Vietnamese and International women with the goal of creating "equality, development, and peace". This is a great chance for you to explore know how gender politics play out in Vietnam, through the shows of the museum. Therefore, it's one of Hanoi's best destinations.
The Museum open from 8:00 – 17:00 every day and the entrance fee is 30.000VND
Vietnam Museum of Fine Arts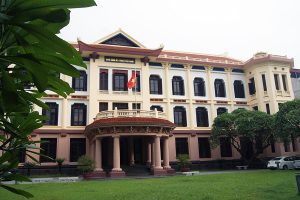 In June 1966, the house No 66 on Nguyen Thai Hoc St. in Ba Dinh District Hanoi, was transformed into the Vietnam Museum of Fine Arts, from a range of historical periods and much of the 20th Century art and folk narratives of a nation in defense were showcased in the first primary art museum of Viet Nam. The second was the smaller – Ho Chi Minh City Museum of Fine Arts.
There are many collections that draw on themes of martyrdom, patriotism, military strategy, and overcoming enemy incursion. A small collection of late 20th and early 21st Century paintings was presented in the museum including works by artists exploring abstraction and abstract impressionism, giving greater attention to the individualist artist. The museum is open from Tuesday to Sunday from 8 am to 11.30 am and from 13.30pm to 16.30 pm.
The entry fee is 40.000VND for an adult; 10.000VND for a child from 06 – 16 years old, and free for children under 06 years old.
Vietnam National Museum of History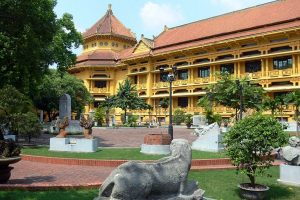 The Vietnam National Museum of History is located in the Hoan Kiem district, right in the heart of Hanoi. It was founded in September 1958, located just behind the Hanoi Opera House at No1 Trang Tien St., the museum contains plenty of valuable objects, which reflect from thousand years prehistory to the present days, in its 2,000 m2 area. On the ground floor is about the period from prehistoric to the Nguyen Dynasty. The second floor features Vietnam from modern history from 1858 until now. The museum is a tourist attraction not only for Vietnamese people but also for foreign visitors. It is opened in the morning from 8:00 – 12:00, and in the afternoon from 13:30 – 17:00.
You will need to buy an entrance ticket, which is 40.000 VND/ticket. It should be noticed also that in order to take photos or filming within the premises, you will have to pay for an amount varying from 15.000 to 30.000 VND.
Vietnam Museum of Ethnology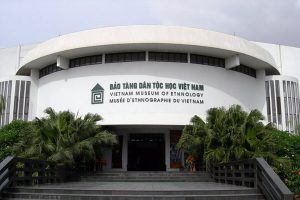 Located on Nguyen Van Huyen Road in Cau Giay District, about 8 km from the city center, the Vietnamese Museum of Ethnology opened at the end of 1997. Since then, it has attracted the attention of visitors as well as ethnographers and researchers from all over the world.
It contains more than 10,000 objects; 15.000 black and white photos and hundreds of vides tapes and cassetles which depict all aspects of life, activities, customers, and habits of the 54 ethnic minorities of Vietnam that are being displayed and labeled in Vietnamese, English, and French.
The Ethnological Museum has successfully recreated the daily life together with the religious rituals and the symbolic festivals of each ethnic group in Vietnam. During certain periods of time, such as the Vietnamese New Year, and Mid-Autumn Festival, the Museum organizes series of activities from traditional games to authentic culture shows by the ethnic people, and thus it is very crowded.
The Vietnam Museum of Ethnology opens from 8:30 am to 17:30 pm, closed Monday and Tet holiday. The admission fee is 40.000VND.
Hanoi Opera House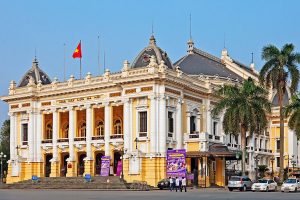 Located at the center of Hanoi, No. 1 Trang Tien Street, Hoan Kiem District, Hanoi Opera House is the favorite destination whenever visitors have an opportunity to visit the capital. It was erected by the French colonial administration between 1901 and 1911. It was modeled on the style of the Paris Opera.
The house is 87m long and 30m wide. The interior consists of a large stage and the main audience room which holds more than 900 seats. The second floor has many small compartments. The first and the second floor has a balcony in the front and two staircases that help audiences easy to go upstairs or downstair. Behind the stage are the management room; 18 make-up rooms, the rehearsal room, and the meeting hall.
During the colonial period, the opera house depended on touring artists performing French and Italian repertoire for a mainly French audience. It also hosted many significant historical events associated with the August Revolution and the early years of Viet Nam Democratic Republic.
After the departure of the French, the building was used for Vietnamese plays, musicals, art shows, cultural activities, and other international events.
Should not miss
Old Quater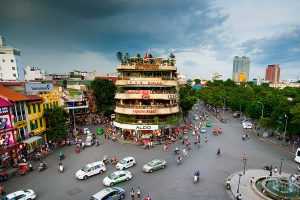 Located north of Hoan Kiem Lake, this area is one of the most attractive places not only for international visitors but also for domestic. Each street name represents a product or profession that is sold by local people. For example, Hang Duong (Sugar St.), Hang Dao (Peach St.)…especially on the weekend, some of the roads, in this area, are being used as a walking area. The interesting thing about Hanoi's pedestrian street is no modern games or technology services but it is attractive by many traditional folk games.
Along the streets, you can easily see groups of performers with different styles and types of music. From lively Latin American music to light music, orchestral music, traditional art forms. Furthermore, if you're looking for souvenirs or want to enjoy local street food with, Old Quater is an area you should not miss.
Bat Trang Pottery Village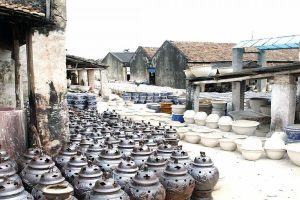 Located in Gia Lam District, by the banks of the Red River, Bat Trang Pottery Village is a famous destination in Hanoi. With more than 7 centuries of history, it is a well know traditional professional handicraft village.
Their products are made from a particular type of white clay. Each family has their own pottery making techniques. They made a variety of bowls, plates, cups, vases, and incense burners. The decorations and designs on these works are also very special.
Visiting the Bat Trang Pottery village to experience the rural life and the profusion of pottery and ceramic wares.
Duong Lam Ancient Village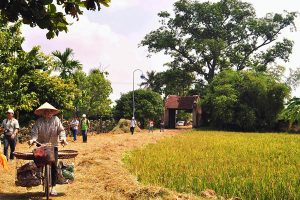 Duong Lam ancient village can be said as a great choice when you need to move away from the noisy, and bustle of the city. Duong Lam ancient village is a small village located in Son Tay district, Hanoi city, just over 40km from the center of the capital.
Over hundreds of years of existence, Duong Lam ancient village still preserves ancient architectural works, landscapes such as village gates, banyan trees, wharves, communal yards. The village also is well-known by many cultural and historical relics including temples, pagodas, stone steles.
Duong Lam has more than nine hundred traditional houses with special construction – being built from the laterite blocks.
Annually, Duong Lam organizes the local festivals to honor the national heroes. There are two most ideal times of the year to explore this small village: the festive season or the rice harvest season. The festive season in Duong Lam usually takes place around January of the lunar calendar every year. At this time in Duong Lam village, there will be quite a lot of unique and interesting festival activities. The most famous of which is the Mong Phu village ceremony, which takes place from the 4th to the 10th of January every year.
In addition, the period of the rice harvest season in May and June is also the time when Duong Lam ancient village receives the most tourists. Around this time Duong Lam village appeared with an incredibly peaceful atmosphere.
WHAT TO EAT      
Hanoi not only attracts visitors with famous landmarks, but also known as a "culinary paradise" with countless variety of reasonable and tasty eats and drinks, ranging from soups, noodles, rolls, fries, and sandwiches perfectly paired with plenty of fresh herbs to fresh beer, coffee and green tea. Compared to other cities in Vietnam, Hanoi food tends to be on the sweeter side; less sour and utilizes freshwater ingredients such as prawns, squids, shrimps, crabs, clams, and mussels. Since a trip to Hanoi won't be completed without trying its traditional delicacies, here's a list of dishes that you should try for at least one time.
1. Pho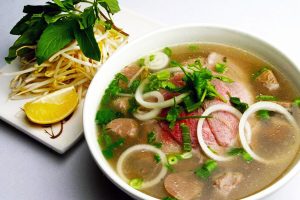 Pho, Vietnamese: Phở, has never been a culinary symbol not only in this place but also as one of the national culinary symbols. This delicate traditional Vietnamese dish, has been associated with Vietnamese people for generations. You can taste it in other cities but, for sue, it won't be the same as in Hanoi. Besides the main ingredients (flat rice noodle; the broth is made from long-boiled beef bones and spices; meat, spices, herbs…) Pho Hanoi has its own cooking recipe. The chef adds "ruoi" – Nereididae, into the broth to create special flavor and select only fresh, soft cake that is not crushed to serve customers. Also, you can enjoy it in the form of "pho xao", which is stir-fried with onions, beef slices, assorted greens, and sometimes with adding extra fried eggs and chili sauce to this simple & satisfying dish.
Where to eat Pho in Hanoi
– Pho Gia Truyen
Address: 49 Bat Dan, Hoan Kiem District
Opening hours: 06:00–10:00, 18:00–20:30, everyday
– Pho Thin
Address: 13 Lo Duc, Hai Ba Trung District
Opening hours: 06:00 – 20:30
– Pho 10 Ly Quoc Su
Address: No 10 Ly Quoc Su, Hoan Kiem District
Opening hours: 06:30 – 22:30
– Pho Suong
Address: 36B Mai Hac De, Hai Ba Trung District
Opening hours: 06:00.- 22:00
– Pho Bung
Address: 01 Hang Trong, Hoan Kiem District
Opening hours: 06:00.- 22:00
2. Bun Cha (Vietnamese Grilled Pork Meatballs with Rice Noodles)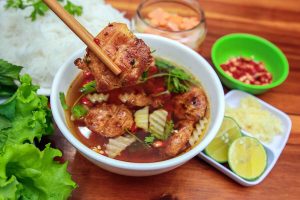 Bun Cha, Vietnamese: Bún Chả, is a classic dish in the North. It's the dish that Barack Obama and Anthony Bourdain shared on his trip to Vietnam in May 2016. It's a combination of grilled pork in a cold broth, rice noodles, fresh herbs, and served in a bowl of nước chấm – fish sauce mixed with garlic, chili, sugar, and lime juice. You'll also typically find a few pickled vegetables floating in the bowl as well.
Where to eat Bun Cha in Hanoi
– Bun cha Sinh Tu
Address 1: 02 Nguyen Phong Sac, Cau Giay District
Address 2: 367 Hoang Quoc Viet, Cau Giay District
Address 3: 114 Giang Vo, Ba Dinh District.
– Bun Cha Dac Kim – Hang Manh
Address 1: 01 Hang Manh, Hoan Kiem District
Address 2: 67 Duong Thanh, Hoan Kiem District
Address 3: 168 Nguyen Son, Long Bien District.
– Bun Cha Huong Lien
Address: 24 Le Van Huu, Hai Ba Trung District
Opening hours: 08:00 – 20:30
– Bun Cha Nguyen Bieu
Address: 23 Nguyen Bieu, Ba Dinh District
3. Bun Rieu (Rice Noodles in crab and tomato broth)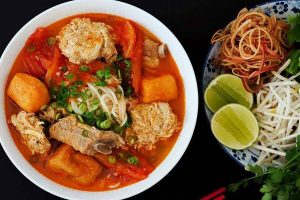 Bun Rieu, Vietnamese: bún riêu, comprises thin rice noodles with shrimp paste, tofu, vegetables, and herbs that are served in rice paddy crab and tomato broth. The delicious taste of crabs, the sourness of tomatoes with the rich broth cannot be mixed, the bun rieu has left visitors with a truly unforgettable impression. Some of the local shops usually served extra with pork and shrimp sauce to this dish.
Where to eat Bun Rieu in Ha Noi
– Bun Rieu Huyen Thu
Address: 2F Quang Trung, Hoan Kiem District
Opening hours: 06:00 – 14:00
– Bun Rieu Trang
Address: 23 Nguyen Sieu, Hoan Kiem District
Opening hours: 06:00 – 14:00
– Bun Rieu Thanh Hong
Address: 42 Hoa Ma, Hai Ba Trung District
Opening hours: 6:30 – 22:00
– Bun Rieu – 7B Ly Quoc Su
Opening Rieu: 7B Ly Quoc Su, Hoan Kiem District
Opening hours: 07:00 – 21:00
4. Bun Thang (Rice Noodle with Chicken, Egg, Pork)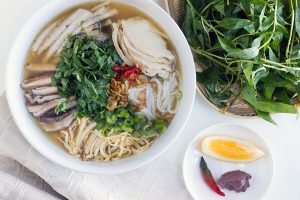 Bun thang (Vietnamese: bún thang) a special dish as its broth. It consists of many nutritious ingredients mixed together including dried shrimp, squid, shrimp paste, spring onion, coriander, ginger, mushroom, beet, fish sauce, sugar candy, vinegar…to make the broth. Some local shops add more noodles, chicken, eggs, pork slices, and a dollop of shrimp paste that make bun thang not only delicious food but also a very nutritious one.
Where to eat Bun Thang in Hanoi
– Bun Thang Ba Duc
Address: 48 Cau Go, Dong Da District.
Opening hours: 7:00 – 23:00
– Bun Thang Ngoc Tuyen
Address: 56 & 58 Dao Tan, Ba Dinh District
Opening hours: 08:00 – 22:30
– Bun Thang Thuan Ly
Address: 33 Hang Hom, Hoan Kiem District
Opening hours: 06:00 – 22:00
– Bun Thang – Quan Cu
Address: 31A Phan Dinh Phung, Ba Dinh District
Opening hours: 06:00 – 23:00
5. Xoi xeo (Sticky Rice with Mung Bean Topping)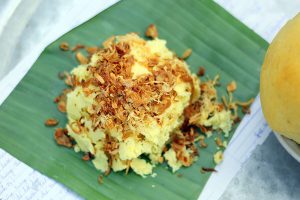 Xoi Xeo (Vietnamese: Xôi Xéo) is a typical breakfast food for local people. It starts with glutinous rice cooked with mung bean and other delicious ingredients. A bright yellow sticky rice is often packaged in lotus leaf, then topped off with a drizzle of liquid fat and crispy fried shallot make a nondescript yet delectable scent of Xoi Xeo.
Where to eat Xoi Xeo in Hanoi
– Xoi Yen
Address: 35B Nguyen Huu Huan, Hoan Kiem District
Opening hours: 06:00 – 13:00
– Xoi Suon Cay
Address: 628 Truong Chinh, Dong Da District.
Opening hours: 16:00 – 22:00
– Xoi Sen Minh Long
Address: 188 Quan Thanh, Ba Dinh District.
Opening hours: 06:00 – 22:00
– Xoi Loc
Address: 68 Ta Quang Buu, Hai Ba Trung District
Opening hours: 13:00 – 23:00
6. Banh Cuon (steamed rolled cake)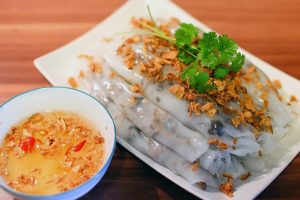 Stuffed with minced meat (normally from chicken, shrimp, or pork), onions, and finely chopped mushrooms, Banh Cuon (Vietnamese: Bánh cuốn) make a great breakfast or snack.
It's usually be served with fish sauce into for adding flavor.
You can easily spot roadside vendors selling Banh Cuon all over Hanoi, but Banh Cuon Tay Ho is a good alternative as sellers offer this dish when it still hot which helps you get a full flavor.
Where to eat Banh Cuon in Hanoi
– Banh Cuon Phuong
Address:16 Dao Duy Tu, Hoan Kiem District.
Opening hours: 6:00 – 21:00
– Banh Cuon Ba Xuan
Address: 16 Doc Hoe Nhai, Ba Dinh District
Opening hours: 07:00 – 12:00 | 16:00 – 00:30
– Banh Cuon Ba Hanh
Address: 26B Tho Xuong, Hoan Kiem District
Opening hours: 06:00 – 14:00 & 16:00 – 22:00
– Banh Cuon Quang An
Address: 71 Hang Bo, Hoan Kiem District
Openning hours: 16:00 – 23:00
– Banh Cuon Phu Ly
Address: 14 Cua Bac, Ba Dinh District
Opening hours: 8:30 – 22:00
7. Cha ca (Grilled fish)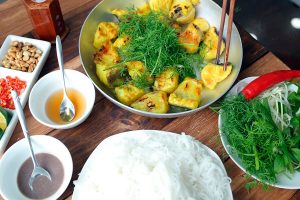 Cha ca (Vietnamese: chả cá) has long been a specialty of Hanoi. Names such as Cha ca La Vong; Cha ca Anh Vu, or Cha ca Lao Ngu… are considered super delicious grilled fish brands.
To make Cha Ca, the fish is deboned, cut into pieces, and mixed with turmeric and other spices. It is then wrapped in banana leaves and grilled over a charcoal fire. It's usually be served with thin rice noodles, chili peppers, cilantro, peanuts, and a bowl of fish sauce.
Where to eat Cha Ca in Hanoi
– Cha Ca La Vong
Address 1: 14 Cha Ca, Hoan Kiem District
Address 2: 107 Nguyen Truong To, Ba Dinh District.
Opening hours: 9:00 – 23:00
– Cha ca Thang Long
Address: 21 Duong Thanh, Hoan Kiem District.
Opening hours: 8:00 – 23:00
– Cha Ca Anh Vu
Address: 120 K1 Giang Vo, Ba Dinh District
Opening hours: 9:00 – 21:30
– Cha ca Lao Ngu
Address: 171 Thai Ha, Hoan Kiem District
Opening hours: 9:00 – 22:00
8. Bun Dau Mam Tom (Noodle and Tofu with Shrimp Sauce)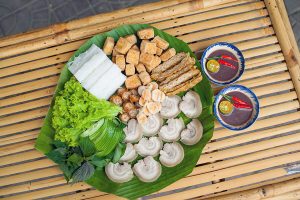 Bún đậu mắm tôm (Vietnamese) is quite simple but very popular in Vietnam. It's originated from Hanoi. The rice noodles are served with deep-fried tofu, boiled pig gut, herbs, cucumber, and shrimp paste. While the shrimp paste doesn't necessarily taste bad, the smell is pretty overpowering.
Where to eat Bun Dau Mam Tom in Hanoi
– Bun Dau Mam Tom Cay Bang
Address: 129 Dai La, Hai Ba Trung District.
Opening hours: 10:00 – 14:00
– Bun Dau Pho Co – Thanh Cong
Address: No 111 K7 Thanh Cong, Ba Dinh District
Opening hours: 10:00 – 14:00
– Bun Dau Trung Huong
Address: No 49 Ngo Phat Lo, Hoan Kiem District
Opening hours: 07:00 – 21:00
WHAT TO BUY 
Hanoi is the "shopping paradise" in the North of Viet Nam. From its bustling markets, colonial shophouses, flash boutiques, and shopping malls; you can find every strange unique thing that cannot be found anywhere else. Escape the afternoon heat to some shopping malls or local shop to bring some of these things back home with you like a small piece of Hanoi. And here is the list of some favorite products:
Silk and Clothing
Embroider
Lacquerware
Bamboo and Rattan goods
Jewelry and Silver
Dried fruit and O Mai (salted or sugared dry fruits)
WHAT TO DO AT NIGHTTIME
Hanoi is a city with so many unique things to do at night and is unlike any other vibrant city in Southeast Asia or even the world. And when you don't want to spend time in rooftops and local bars, there are a multitude of fun and interesting things to see and places to go. Here are some of the best thing to try in this capital:
Stroll around Hoan Kiem Lake: this is a cool place to walk around and snap some pictures at night. In the center of the lake is the Ngoc Son Temple, all the buildings, houses, bridges sparkle with lights that reflect on the water surface, creating a colorful sight.
Water puppet show: featuring live music and water puppets to sketches of the ancient myths and folklore, this art performant has been favorite among tourists in Vietnam. To join the show, you can come to book a ticket at Thang Long Water Puppet Theatre In the Hoan Kiem District.
The Bia Hoi Junction: located in the center of the Old Quarter, this is absolutely a classic night-time activity in Hanoi. There are many shophouses offer beers, with the most famous Beer Hoi (Fresh Beer) which cost only 10.000VND/1 plastic cup, serve on plastic tables and stools spilling out onto the sidewalk. This is a great place to make friends, as it's almost always crowded with tourists.
Stroll around and enjoy Hanoi Old Quarter street food is the best way for you to explore this area and enjoying local cuisine. From shophouses to vendors, they're offering variety of unique delicious street foods at super cheap prices. But you should "understand your stomach" or at least, try to find a local guide for you.
Dinner at West Lake – also called Hồ Tây in Vietnamese, is the largest lake in this city that have been attracting many foreigners coming to enjoy the fresh and cool air. Around the lake, there are many restaurants and bars that can bring you to a lovely night with a meal while feeling the beauty of the lake under the street lights in the evening.
Shopping at the Hanoi Night Market: explore the night markets even when you don't want to do shopping. These are excellent places immerse yourself in the lively night-time atmosphere of Hanoi, meet people, snap some pictures, and enjoy some delicious street-side snacks. Some of the markets you should visit such as Dong Xuan Market, Quang Ba night flower market, Old Quarter night market…
See Hanoi from above: a rooftop bar, café, or restaurant is a perfect destination when you want to see Hanoi from above. It's a panoramic view of Hanoi from above. With the opened-air view, you will probably feel peaceful and fresh, completely different from the noisy and crowded of Hanoi that you see on the road.
PLACES TO VISIT AROUND HANOI
Some of tourist attractions nearby Hanoi city are Halong Bay; Sapa; Hoa Lu – Tam Coc in Ninh Binh; Mai Chau in Hoa Binh…And besides Hanoi city tours, Viet Dream Travel has designed some daily group and package tours that allow you easily choose the best one matching your time, budget, and your demand.
You can contact us at:
Hotline (+84) 28 3838 8322 or +84 902 790 506
Email: info@vietdreamtravel.co.uk – info@vietdreamtravel.vn
Our enthusiastic and professional tourism consultants are always ready to answer all of your questions.
Best regards,
Vietdream team.
---