Vietnam has many famous pagodas, some of them have been existing more than 1000 years. They not only direct link with the religious life of the locals but also become attractive destinations for many tourists around the world. Now, let discover with us the top 10 famous Pagodas in Vietnam as bellow.
1. Bai Dinh Pagoda (Ninh Binh province)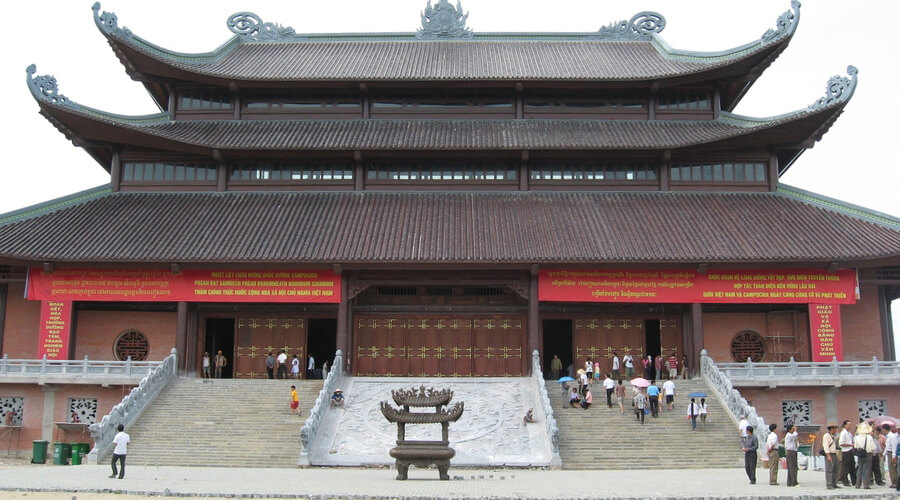 About 100km north of Ha Noi, Bai Dinh Pagoda is located at the western gate of Hoa Lu Citadel – a Historic vestige. Covering 107ha in Gia Sinh Commune, Gia Vien District, Bai Dinh nestles amidst Trang An Eco-tourism Complex. Here is a cluster of Buddhist architectural structures, consisting of new, giant and imposing temples of the newly-built Bai Dinh Pagoda area which play of ancient and respected shrines of the ancient Bai Dinh Pagoda area.
Are you looking for a Bai Dinh Pagoda for 1 day, click here for more detail.
2. Con Son Pagoda – Hai Duong Province.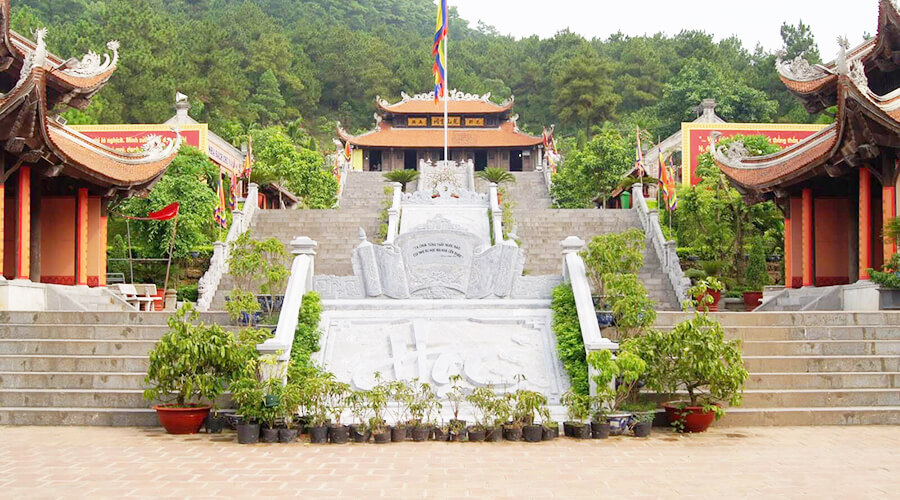 The highlight of the relic site is Con Son Pagoda, which reflects Vietnam's historical, cultural and religious value. Vinh Phong reports. Con Son pagoda, also known as Hun pagoda, is located at the foot of Con Son Mountain. It was built in the 10th century and was expanded in the 13th century during the Tran dynasty.The pagoda consists of a front hall, an incense offering hall, an upper hall and an ancestor worshipping hall. The upper hall worships Buddha and has a 3-meter Buddha statue.
In the ancestor worshiping hall, there are statues dedicated to King Monk Tran Nhan Tong, Venerable Monk Phap Loan, the second founder of Truc Lam Zen sect and his successor Huyen Quang, high-ranking mandarin Tran Nguyen Dan and national hero Nguyen Trai.
There are two annual festivals held at Con Son Pagoda. The spring festival takes place from the 16th to 23rd of the lunar January to commemorate the anniversary of the death of Venerable Monk Huyen Quang.
The festival includes many rituals, a water procession, a worshiping ceremony, a prayer ceremony, wrestling, human chess, and Quan Ho folk singing. The autumn festival is held from the 16th to 20th of the 8th lunar month to mark the death anniversary of national hero Nguyen Trai. Participants take part in ceremonial singing, requiems, lantern festival, swimming, and wrestling competitions.
3. One Pillar Pagoda (Ha Noi Capital)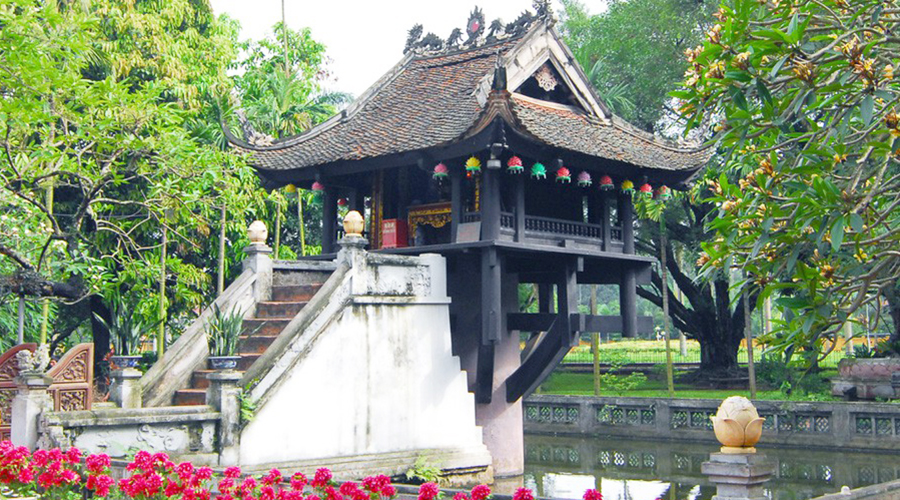 The One-Pillar Pagoda is a symbol of Ha Noi Capital. The original name of One Pillar pagoda was Dien Huu Pagoda, which literally means "long-lasting happiness and good luck". The Pagoda is located on Ong Ich Khiem street near President Ho Chi Minh's Mausoleum. It was first built in 1049 during the reign of King Ly Thai Thong. According to legend, aging King Ly Thai Tong, who had no children, often went to pagodas to pray to Buddha for a son. One night, he dreamed that he was granted a private audience with Buddha. Months later, when the queen gave birth to a male child, the king ordered the construction of a pagoda supported by only one pillar to resemble the lotus seat of his dream in the honor of Buddha.
4. Tran Quoc Pagoda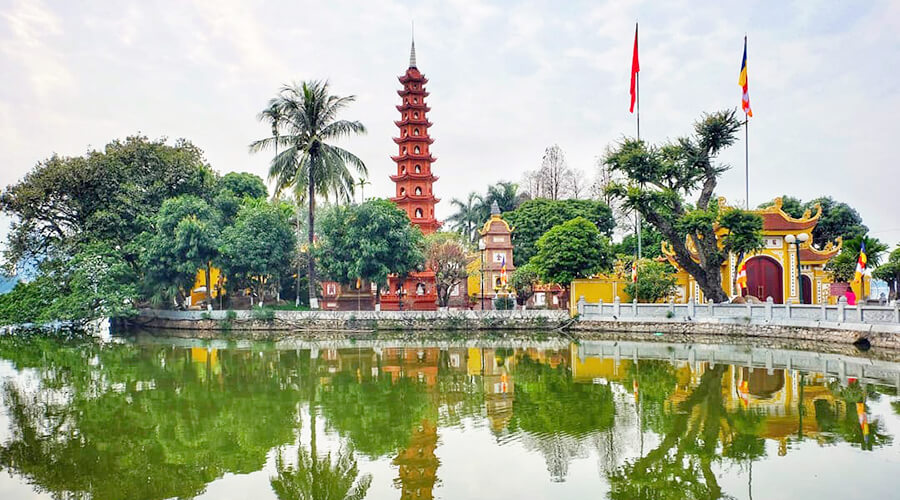 Located on an islet in West Lake, Tran Quoc Pagoda is one of the oldest pagodas in Vietnam. Its construction was under King Ly Nam De (544-548). Standing at one end of Thanh Nien Road, one can see the towers of the pagoda rising above the lake's surface. Inside, there is a precious statue of Sakyamuni Buddha entering Nirvana, which is a masterpiece of Vietnamese sculptural art. A stele dating from 1639 tells the story of this pagoda.
5. Huong Pagoda (Ha Tay province) or Perfume Pagoda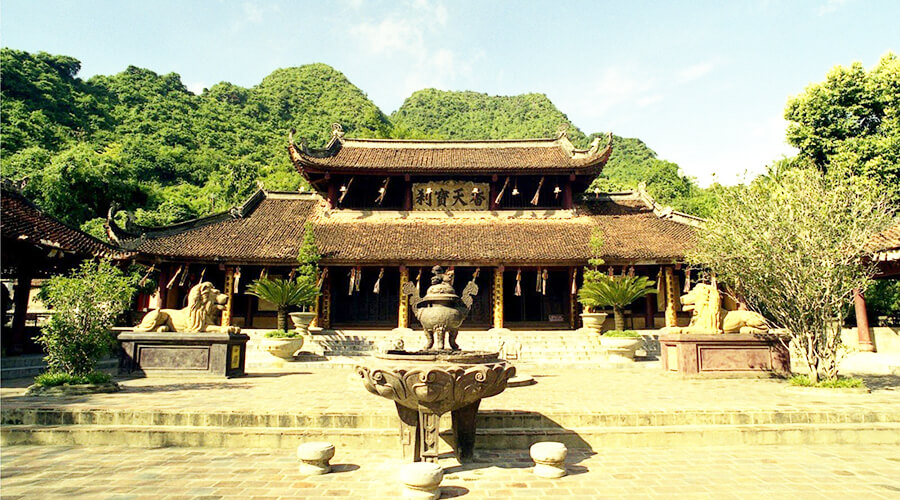 Huong Pagoda is a cultural and religious complex of Vietnam that includes a lot of Buddhist Pagodas, Temples, Shrines with the agricultural belief.
The center of Huong Pagoda is located at Huong Son town, My Duc District, which is about 60 kilometers from Ha Noi and along the right bank of Day River. The heart of this pagoda complex is Huong Pagoda located in Huong Tich Grotto, which is also known as Trong Pagoda (The Inside Pagoda).
Huong Tich cave is the most beautiful and famous of the caves in the area. It was discovered more than 2000 years ago. In the middle of the cave is a statue of Bodhisattva Kuanin. Surrounding the statue are stalagmites resembling golden trees, silver trees, cocoons, hillocks, and a group of nine dragons. Visitors can trek up or take the cable cars from Thien Tru Pagoda to Huong Tich cave.
Do you want to visit the Perfume Pagoda for 1 day? If you do, please click here.
6. Dai Tong Lam Pagoda (Ba Ria – Vung Tau province)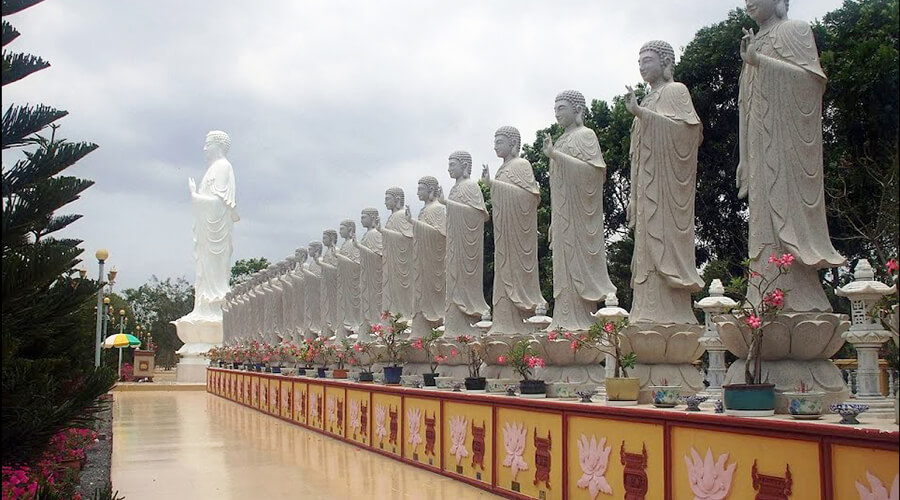 Dai Tong Lam Tu Pagoda is an imposing relic of Phu My Commune, Tan Thanh District, Ba Ria-Vung Tau Province.  Located on National Road 51, about 70 kilometers from HCMC, the sanctuary is an ideal place to indulge in sacred tranquility.
Built-in 1958 on 100 hectares, the pagoda has a statue garden, tower, and sanctum. The highlight of the pagoda is the 17-meter-high statue of Bodhisattva standing on a dragon head. The two-story sanctum built-in 2002 is 91 meters long and 46 meters wide.
In front of the sanctum is a statue of Maitreya Buddha carved from a granite rock from Khanh Hoa Province. The rock weighs 40 tons and is 5.1 meters in height. The statue holds the Vietnamese record as the country's largest statue of Buddha made of granite.
The second floor is dedicated to the worship of nine granite statues of Buddha. The surrounding walls are carved with 10,000 small Buddha statues ; each 0.25 meters wide and 0.3 meters high. It also holds a Vietnamese record as the country's largest sanctum.
The pagoda is renowned for the statue garden that includes 48 statues, including an 18-meter-Buddha Amitabha.
7. Keo Pagoda (Thai Binh province)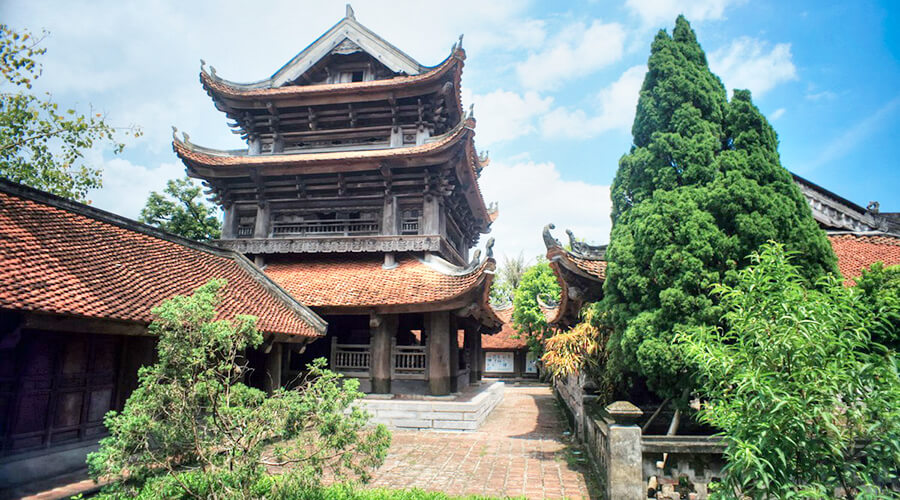 Keo Pagoda is located in Dung Nhue village, Duy Nhat town, Vu Thu District, approximately 18km south of Thai Binh city. The full name of this pagoda is Tran Quang Pagoda. It is one of the oldest pagodas in Vietnam, which is nearly 400 years old. Keo Pagoda still fully reserves its unique and ancient architect during such a long period of time. The architectural arrangement of pagoda follows the style "tien Phat Hau Thanh" (the front is dedicated to the Buddha and the back to deities). At present, the pagoda preserves many valuable votive objects. At its back sanctuary, there is a statue of a Zen Master Khong Lo make of aloe wood in 1094, several ancient statues in the Le Dynasty and ancient porcelain objects.
8. Giac Lam Pagoda (Ho Chi Minh City)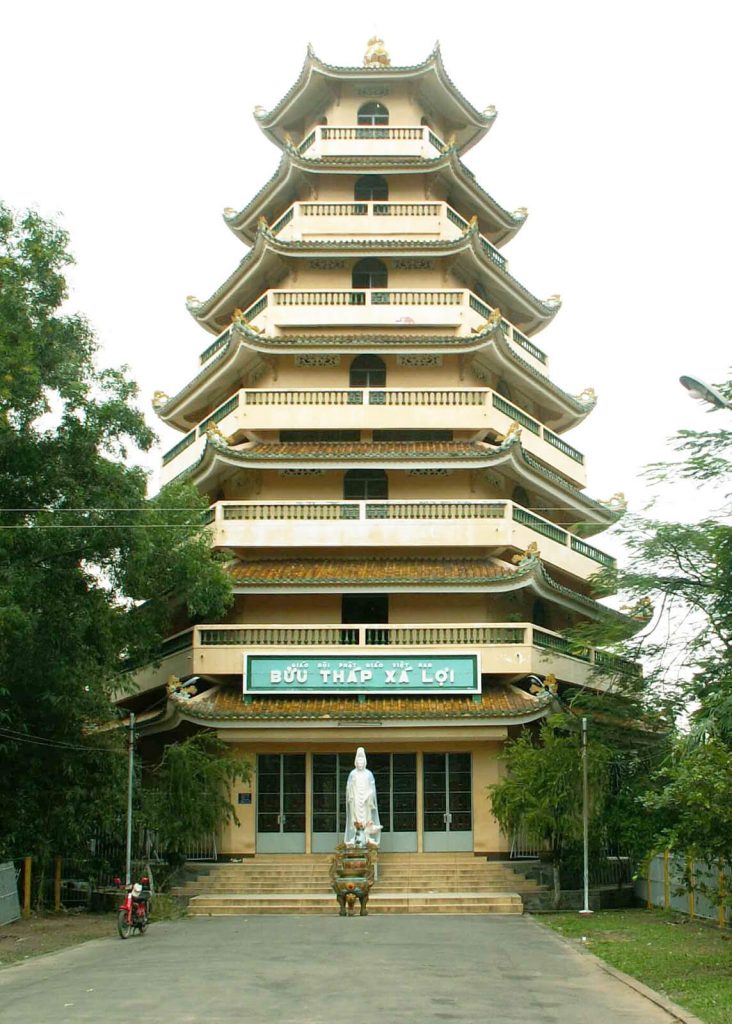 This pagoda is also known as Cam Son Pagoda, located at 118, Lac Long Quan Street, Tan Binh District, Ho Chi Minh City. It is one of the oldest pagodas of this city and the center of Rinzai school in the Southern Region of Vietnam. It is built in the shape of the Kanji Letter "San" (means Three) including the main hall, lecture hall and two buildings serving foods. Along both sides of the main hall is two collections of 18 Arahants (a big one and the smaller one).
There are 133 statues made of precious wood, which are skillfully lacquered and gilded. All of the statues, chairs, tables, antique grave towers, etc. are livelily sculptured by talented artists.   
On spring days, Giac Lam Pagoda welcomes thousands of pilgrims and foreign tourists coming here to pray for peace and happiness as well as contemplate the antique beauty of this pagoda.
9. Linh Phuoc Pagoda Da Lat (Lam Dong province)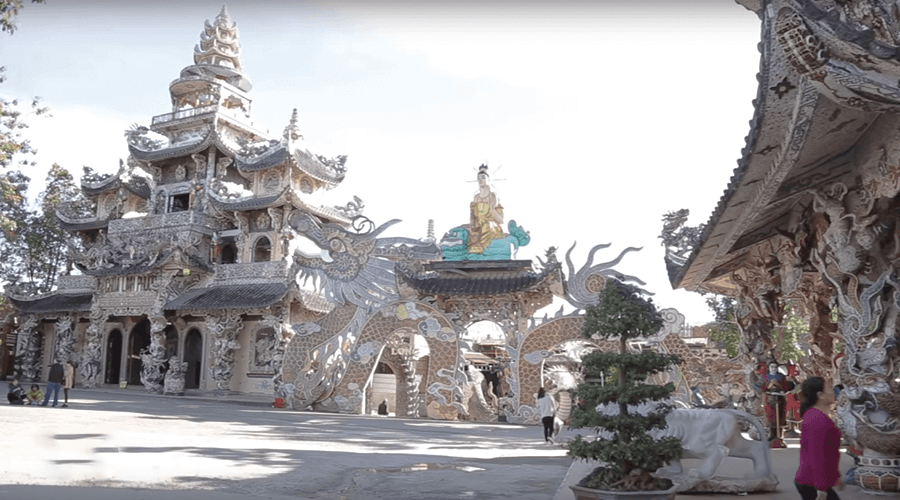 This is the most special pagoda in Vietnam. Linh Phuoc Pagoda is situated in Lam Dong Province. It attracts a great number of tourists, who come here to observe its strange and unique architecture. The whole pagoda is covered by fragments of porcelain and bottles, which creates such a strange and impressive appearance.
On paying a visit to Linh Phuoc Pagoda, the first impression of tourists must be the beautiful appearance of 7-floor-tower, which is the highest pagoda's tower of Vietnam. Legend has it that when the tower was completely built, there was a shining halo appearing on its top in several days.
Another highlighted feature of this pagoda is the Long Hoa Vien, which is a work of a 49-meter-long dragon winding around the statue of Maitreya Buddha. The fins of this dragon are made of 12 000 fragments of beer bottles. Under this wonderful work is a beautiful lake with some artificial mountains.
On the other hand, the Statue of Guanyin Bodhisattva is also a highlight of Linh Phuoc Pagoda. This statue is made of thousands of golden everlasting daisies on the occasion of Da Lat Flower Festival in 2011.
10. Linh Ung Pagoda (Da Nang City)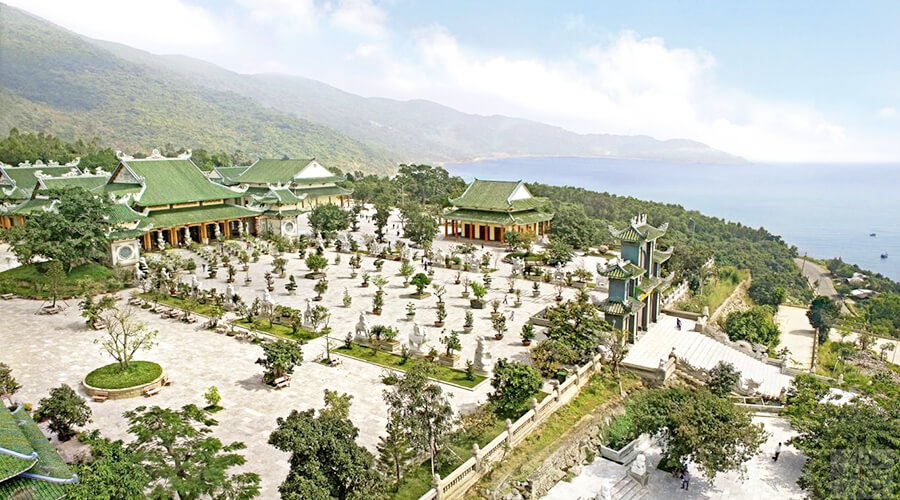 The Linh Ung Pagoda is located on Son Tra Peninsula, Son Tra District, Da Nang Province, which is about 10 kilometers to the Northeast. Linh Ung – Bai But pagoda is now considered as the largest pagoda in Da Nang City in both the scale and art of architecture. The pagoda brings a contemporary style combined with the inherent tradition of pagodas in Vietnam, with a curved roof in dragon shape, the solid pillars surrounded by sophisticated sinuous dragons.
Especially, in Linh Ung – Bai But pagoda, there's a Lady Buddha statue which is considered as the tallest one in Vietnam (67m high, 35m lotus diameter, equivalent to a 30-story building).
Conclusion
Vietnam has many pagodas throughout the country. If you are following Buddhism, this would be a great chance, when travel to Vietnam, for you admire and learn about the history, culture, enjoy the peaceful at these pagodas. 
---