Can Tho city is famous for its gentle river and water beauty, lush green orchards and a cheerful and hospitable temperament of local citizens in Mekong Delta that have captivated tourists. Can Tho tourist itinerary discovers the land known as "the capital of the West" with a cool fresh climate, bold landscapes of the South, immense fields, tangled canals, ancient houses and many rustic delicacies only available in the South West.
Vietdreamtravel would like to share with you some travel experiences, useful information selected over the years to help you have a meaningful trip to this city.
What is the best time to visit Can Tho?
Can Tho is located in a tropical climate with warm and sunny all year round. The weather is pleasant, less stormy, hot and humid all year round, with no winter time, the annual average temperature is about 28ºC, so when traveling in Can Tho you should bring sunscreen, sunglasses, hat, anti-cream sun, insect repellent …
Can Tho has only 2 seasons of rainy season and dry season. The dry season is from December to April next year. The rainy season lasts from May to November, you should bring an umbrella or a raincoat. Each season in Can Tho has its own interesting things such as below:
Fruit season: Can Tho has fertile alluvial soils, so fruit trees all year round. But the months in June, July, and August are the time with the most ripe fruits, so if you are a fan of fruit, you should go in the summer.
Floating water season: From September to November, coming to Can Tho this season, you will see water flooded the whole field. It's also a good chance to take a boat to explore the fields, sailing along floating market or explore countless creeks in the province.
Blooming season: From December to January, February of the solar calendar is the time near Tet holiday. Come to Can Tho on this occasion to immerse yourself in the colorful flowers.
Where you should visit?
Can Tho has many idyllic river landscapes that attract you such as below:
Ninh Kieu Wharf and Pedestrian Bridge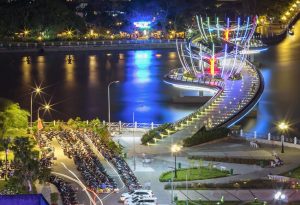 Referring to the famous tourist destinations in Can Tho, it is impossible not to mention Ninh Kieu wharf. Located in the heart of Can Tho city, the poetic Ninh Kieu wharf, the charming river is considered the symbol of the province and is a typical destination of any tourists coming to this city. Especially, this place has the first tourist pedestrian bridge of Mekong Delta connecting Ninh Kieu wharf and Cai Khe islet. The pedestrian bridge is attracted by colorful and colorful lights. Here, visitors can enjoy the cool breeze blowing in from the Hau River, admire the shimmering landscape of Can Tho city at night.
Can Tho Market
The attractive of Can Tho market, which is located near the Ninh Kieu Wharf, is one of the major market in the western region of South Vietnam.
From the floating restaurant on the Hau River, diners can enjoy the specialities of the province and watch the hundreds of boats sailing by. 
Ong pagoda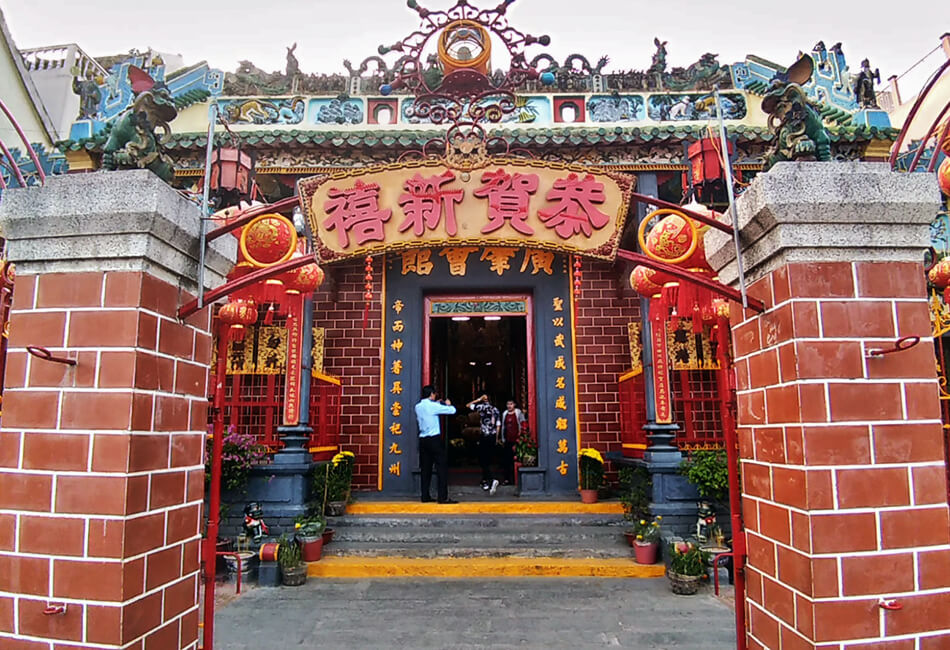 Ong pagoda is one of the ancient pagodas in Can Tho with its delicate architecture and unique patterns bearing Chinese culture. Ong pagoda is located on Hai Ba Trung Street, near the Ninh Kieu Wharf.
The pagoda is where the cultural and religious activities of Chinese living in Can Tho are held. The beauty of the temple still endures over time and was listed as a National Heritage Site in 1993.
Cai Rang floating market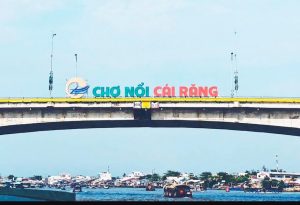 Cai Rang Floating Market is one of the three largest floating markets in the Mekong Delta region. The simple beauty, everyday life, village activities have created a unite images of this area.
Activities in Cai Rang Floating Market starts quite early, from around 4, 5 am, many boats come to the market for trading so this is the ideal time for you to visit.
Binh Thuy Temple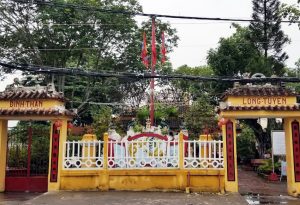 Among all the remaining ancient temples in the southwestern region, it can be said that Binh Thuy temple in Can Tho is the most majestic and beautiful superstructure. Dinh Binh Thuy is located at Le Hong Phong street, Binh Thuy ward, Binh Thuy district. This is a very unique project, signifying the strong vitality of the village community in the South from the reclamation period, the spirit of respect, ancestor worship, people with meritorious services to the country … It's also show the skillful hands of local people.
Binh Thuy Communal House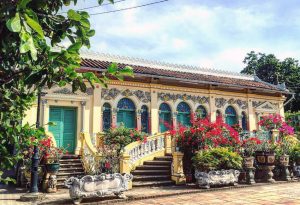 The Binh Thuy communal house is one of the most beautiful old houses in Can Tho, over 100 years old. Located at No. 142/144 Bui Huu Nghia, Binh Thuy, Can Tho.
The house has become an attractive destination as it harmony architecture. With the unique ancient beauty, the communal house of Binh Thuy has become the famous studio of many Vietnamese films.
Fruit Gardens in Phong Dien – Can Tho 
Can Tho is not only known as one of the largest cities in Mekong Delta but also a famous garden tourism city with many large and small fruit gardens to serve the needs of ecotourism and deliver fresh fruit to many markets. Phong Dien is about 15km from the center of Can Tho city, which is famous of lush fruit gardens, intertwined canals create a fresh environment. In the fruit season, visitors will enjoy all kinds of sweet fruit trees, garden space, and daily life of the sincere Phong Dien people. Below is a list of the most famous orchards in Phong Dien district, Can Tho for you to explore.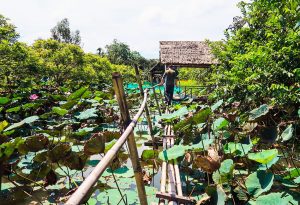 Son islet is the ideal place for tourists to find a peaceful, away from the noisy and bustling city, find the most comfortable feeling in the countryside. This is a small floating land on the Hau River with an area of ​​about 70 hectares, located in Bui Huu Nghia ward, Binh Thuy district, Can Tho city, nearly 1km from mainland and about 6km from Ninh Kieu wharf. Traveling to Son islet, visitors can only ride bicycles, walk on small village roads or paddle among the immense fruit trees. The life of the people has a bold style of the southwestern region, which is a very unique feature for Son islet to attract and hold tourists.
This islet is located in Tan Loc ward, Thot Not district, more than 40km from the center of Can Tho city with about 15 minutes via ferry. This place not only attracts tourists by the charming scenery, the fruit orchards, but also impressed with the ancient houses, culture symbol of the southwestern land.. Wandering on Tan Loc islet, learning old tales, listening to modern stories, visitors will find many strange charms.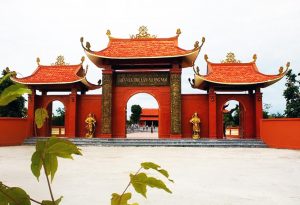 Truc Lam Phuong Nam Monastery is located in My Nhon Hamlet, My Khanh Commune, Phong Dien District. It is a unique art work built in the style of Ly – Tran dynasty and is a famous spiritual tourist destination.
The peaceful and serene beauty of Truc Lam Phuong Nam Monastery attracts numerous followers and visitors coming. After admiring the monastery you can combine visiting the nearby Phong Dien orchards which are only about 1km away.
My Khanh tourist village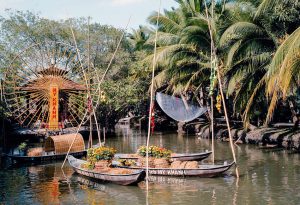 My Khanh tourist village is considered as a miniature Mekong Delta – this is a famous ecotourism destination in Can Tho. Come here, enjoy all kinds of fruits in the garden and specialties, visit traditional craft villages and listen to folk songs of the South.
At the same time, do not miss folk games such as tree climbing, sack jump, pig racing, …
Bang Lang stork garden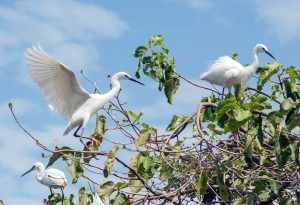 Located about 60km from Can Tho city, follow Highway 91, cross O Mon district, go to Thot Not district to Bang Lang bridge, cross the bridge, turn left, you will reach Bang Lang stork garden. Tickets to Vietnamese tourists are 10,000 VND / person, foreign visitors are 20,000 VND / person. There are many types of storks such as: cattle egret, Chinese pond heron, bubulcus ibis, striated heron, scarlet ibis …Every day from 6am to 7am, thousands of storks fly to search for food and return at around 5pm – 6pm, creating a peaceful scene in the rural area of the Mekong Delta river.  
What to eat in Can Tho?
Beside the top tourist destinations, Can Tho also attracts visitors by local cuisine. Here is a list of some of the most lovely food you should try:
Hotpot with fish sauce

Grilled snail with pepper

Fried rolls,Stuffed pancake in Cai Rang

Grilled Snake-head Fish with chilli & citronella

Crab with tamarind

Hot sour fish soup

Grilled duck in fermented bean curd

Pancakes with core of coconut tree
Above is a combination of travel guide to Can Tho. Vietdreamtravel is also running daily tours; package tour and offering car/bus rental services to explore this lovely city. Don't hesitate to contact us at (+84) 028 3838 8322 for more details.
---