The Mekong River Delta is delimited by the tributaries of the Mekong River. This area, which is criss-crossed by a dense network of canals, is fertile and excellent for the cultivation of rice and growing fruit trees. There are also immense fruit orchards, the most impressive of which are located on the islands of the river. The Mekong delta region encompasses a large portion of southwestern Vietnam of over 40,500 square kilometres, comprises in 12 provinces. Therefore, on this page we just would like recommend to you the best places to visit Mekong Delta in short trip.
Tien Giang
1. Vinh Trang Pagoda
This pagoda, located in My Tho, Tien Giang province, was built in 1849 in the total area of 14.000m2. The splendid but simple features of the Buddhist construction are a result of the harmonious fusion of Asian and European architectural styles. The pagoda has Renaissance -styles patterns, Roman-style arches, and Japanese enameled tiles. However, the pagoda's internal architecture is also imbued Vietnamese traditional sculpture art.
The pagoda stores over 60 precious statues made of wood, bronze, terracotta of which a collection of 18 Arhats sculpted in 1907. These works of art represent the pinnacle of sculpture in the Mekong River Delta. Besides, there are 3 big Buddha statues in the pagoda's campus, including 18m-high Amida Buddha Statue, 20m-high Maitreya Buddha statue, and Shakyamuni Buddha statue. The pagoda also has a 150kg-weigh bell cast in 1853, more than valuable 20 landscape paintings, horizontal lacquered boards, parallel sentences. Visiting the pagoda around 10:00 A.m. and you will hear the sound of monks chanting peaceful Buddhist prayer verses.
2. Thoi Son Island
Thoi So Island is famous for its fruits. The area features traditional houses inhabited by many generations, gardens with fruite-leden trees, and modest restaurants amidst fruit and bonsai gardens. Strolling on the small path through the island, you will be mesmerized by the fragrance from colourful gardens of plum, mango, jackfruit and longan. There are ripe fruits all the year around. Coming there you will have a chance to eat fresh fruits, drink honey tea and listen to folk songs and music of Don Ca Tai Tu.
Next, you can hand-row a boat along two lines of water coconuts. After that, you sail along the Tien River to Con Phung where Mr. Dao Dua practised his belief, visit famous coconut candy establishments or explore the life of friendly, hospitable and open-hearted locals in the hick town in the South.
Booking now: Mekong 1 day to visit Vinh Trang Pagoda and Thoi Son Island.
3. Cai Be floating market
Cai Be floating market is held where the Tien Giang River forms the border between the provinces of Tien Giang, Vinh Long, Ben Tre. Approximately 400 – 500 boats filled with fruits, vegetables, fabric, household items, fresh seafood, food, and drinks are anchored along the banks of the river from 5 Am to 17 Pm every day. The merchandise sold in each boat is hung on a pole in front of the boat to attract customers. It is one of the largest wholesale markets in the Mekong Delta.
4. Cai Be Fruit Orchard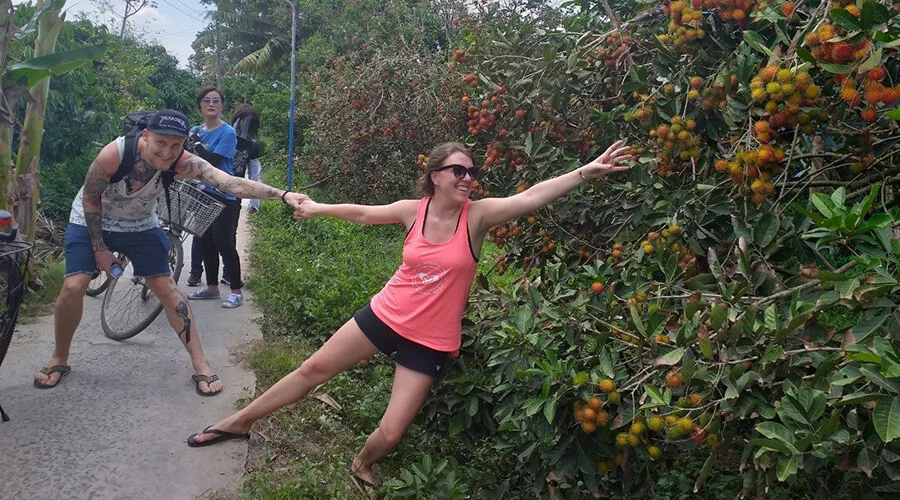 There are plenty of fruit orchards in Cai Be. It supplies numerous types of fruits to both domestic and international markets. you will be able to find various fruits such as mango, grapefruit, guava, apple, jackfruit, dragon fruit, mangosteen, plums, durian, etc., being cultivated. You can take a tour through the premises, pick ripe fruit off the trees and enjoy them right then and there.
Book now for a tour to vist Cai Be market and fruit orchard in 1 day.
Can Tho
1.Ninh Kieu Wharf
Ninh Kieu Wharf is located close to the center of the city on the bank of the Hau River, a large tributary of the Mekong River. It's the city's main trading center.
Ninh Kieu Wharf has been developed into the city's park with an area of 7000m2 treating locals and visitors to unique sensory experiences. Coming to this famous site, they can also taste local specialties in floating restaurants alongside the wharf.
Especially, Ninh Kieu Wharf has attracted more visitors since the walking street, with the food area and night market officially come into operation on January 2016. In addition, in February 2016, Can Tho city inaugurated the first pedestrian bridge with a length of 200m and a width of 7.2m. this S-shaped bridge, Khai Luong Canal, connecting Ninh Kieu Wharf and Cai Khe Islet.
Hundreds of boats ply up and down the river bringing products fro the rest of the Mekong River Delta region. Close to Ninh Kieu Wharf is the Can Tho Harbor, which was built according to modern design to accommodate ships weighing up to 5000 tons. From Ninh Kieu Wharf, visitors can contemplate Can Tho Bridge – the longest cable-stayed bridge in Southeast Asia.
2. Cai Rang Floating Market
It's located just 5km from the center of Can Tho City. Cai Rang can be seen from the road but getting there by boat is more interesting. From Ninh Kieu Wharf it takes about half an hour to reach the market. Every day in the early morning, bustling between 4 Am and 9 Am, hundred of boats loaded with agricultural products gather to form a market. Trading activities take place in boats. Buyers should see the goods hang on the poles at the boat prow. Other food services also take place in boats. You can enjoy the specialties of Can Tho and watch the hundreds of boats sail by.
Are you looking for a tour to visit Vinh Trang Pagoda – Thoi Son Island – Can Tho city – floating market for 2 day 1 night? book it here!
An Giang
Positioned next to the river, Chau Doc is a deserving town for many travelers because it is home to mosques, temples, and monuments; coming here is a chance for them to learn about sophisticated features in culture and religion of the area. Some recommendations they can notice are Chau Phu Temple, Murbarak Mosque, Chau Giang Mosque, Tra Su Bird Sanctuary, and local floating markets. It's surely enough to explore Chau Doc of Mekong Delta within one day.
1. Sam Mountain
Sam Mountain is located near the border between Vietnam and Cambodia. The mountain with 230m high and 5,200m perimeter offers beautiful landscapes and is also the site of many historic and cultural constructions deeply cherished by the inhabitants of the Mekong River Delta. Climbing up to the mountain is an adventure. you will pass dozens of shrines, tombs and even a temple on the way to the top. Once you reach the summit you will find a small military outpost with a grand view featuring Cambodia on one side and Vietnam on the other.
2. Visit floating houses and fish farms

 
This region is a good natural environment for many kinds of freshwater fishes. It's the best place to grow fish so that there are many fish farms in Mekong Delta which are worth a visit. There you can feed the fish with the farmer's help. You can also catch fishes and cook delicious dishes from fresh ingredients. Sometimes it needs a fishing rod made of bamboo to catch snakehead fish, carp and catfish. It's not like you to go fishing in a lake or the ocean. Also you can try a special fish soup by local cuisine after catching.
3. Tra Su Melaleuca forest
Located in the An Giang province of the Mekong Delta, it is one of the most familiar places for many foreign visitors to Vietnam. It is the home to many species of plants and animals belonging to the special-use forest system of Vietnam. There are 140 species of plants, including 22 species of trees, 78 species of medicinal plants, 13 aquatic species … About animals, Tra Su Melaleuca forest is inhabited by over 70 species of birds, including 2 precious birds are recorded in the red book. Tra Su An Giang Melaleuca forest is an ideal destination for tourists who love ecotourism. This is also an ideal place for researchers, environmentalists to explore and explore wild nature. However, come the end of the year during the rainy season, the area turns into a flooded forest, making it ideal for a guided boat tour through the region. The best months to visit are from September to November.
Explore Mekong Delta for 3 days with just 80USD! Book it here!
Please contact with us if you have any questions, please contact us via phone number: +84(0)28 38388322 – Hotline: +84(0) 902 795 056 – 918 709 338 or email: info@vietdreamtravel.vn. We always support customers anytime (24/7.
Best regards,
Vietdream team
---