Dong Nai is a province in the Southeast region of Vietnam, located east and northeast of Ho Chi Minh City. It has many historical and cultural relics and potential tourist spots. Besides, province is famous for being home to many eco-tourist areas with wonderful landscapes, perfect places for camping, hiking or your picnic trip.
What is the best time to visit?
The province lies in the monsoon tropical zone and be influenced of the Pacific Ocean tropical atmosphere between April and October. The climate is divided into two distinct seasons: the rainy season lasts from March or April to November and the dry season from December to March or April of the following year. So if you want to do trekking or camping, dry season would be the best time for you.
Tourist attractions in Dong Nai
1. Nam Cat Tien National Park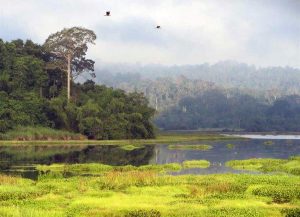 Cat Tien National Park is a nature reserve located 150km north of Saigon city. This is the largest national park in Vietnam which has a diverse and rich ecosystem. It's a home of more than 1362 plant species and 62 animal species. Many of them are listed in Vietnam's Red Book or classified as rare species. This is one of the most attractive cultures and eco-tourism destinations in the Southeast Region. Tourists can experience all kinds of tours including camping, trekking, observation of animals at night, visits to ethnic villages, kayaking in the river, and other adventurous tours. The Nam Cat Tien also has preserved historical sites as it was a revolutionary base.
2. Giang Dien Waterfall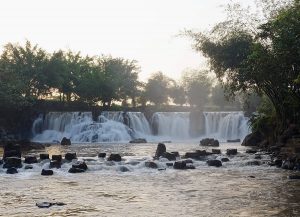 Giang Dien waterfall has an unspoiled natural beauty. A wild landscape surrounded by green trees, rocks help you to immerse yourself in green nature, away from the bustling urban atmosphere. Giang Dien waterfall eco-tourism area has an area of ​​more than 67 hectares with an ecotourism complex. The waterfall is 17 meters high, composed of 3 waterfalls: Chang, Nang and Giang Dien – the main one. Along the banks of the waterfall are rocks of many overlapping sizes creates beautiful, poetic and charming sights with fresh air.
Giang Dien is an ideal destination for picnic; buffet parties, BBQ parties, outdoor weddings in European style; Organize conferences – seminars – events; camping…
Address: 104/4 Hoa Binh Hamlet, Giang Dien Commune, Giang Dien, Trang Bom, Dong Nai.
3. Tan Trieu pomelo village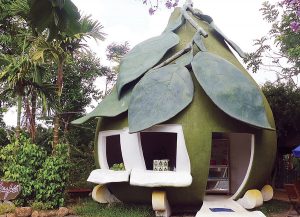 Tan Trieu pomelo village is located in Tan Binh commune, Vinh Cuu district, Dong Nai province, about 10km from Bien Hoa city center. It's well know for its many pomeio orchards. The name "Tan Trieu" means the new court. It was given by Nguyen Anh Imperial and has remained until today. Coming here, you're likely to be offered fruite samples to taste the variety of pomeios. Furthermore, the pomelo here is famously delicious, and processed into many delicious dishes such as:
pomelo tea, pomelo wine, pomelo steamed chicken, pomelo sweetened compote, sugared pomelo, and pomelo salad – one of most delicious dishes, which is made by mixing pomelo with boiled shrimp and pork, some basil and other ingredients like chilli, carrots, peanuts and sugar. This dish is best served dish with griddle cakes and a sour and sweet spicy sauce
It will surely give you an unforgettable experience when visiting a peaceful village with lush green pomelo orchards and enjoying the local specialities.
4. Buu Long Tourist Area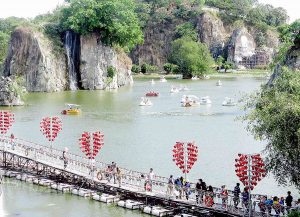 Located on Huynh Van Nghe Street, Bien Hoa, Dong Nai, around 6km away from the city center. Buu Long tourist area is considered one of the most popular tourist destinations, attracting a lot of tourists inside and outside the province to travel with family and friends, especially on weekends and holidays.
The whole tourist area is 84 hectares. It's a landscape with mountains, pagodas and the most famous – Long An Lake – an artificial reservoir covering an area of more than 10 hectares. Long An Lake is look like a picture of miniature Ha Long Bay which has crystal clear water and plenty high rocky outcrops look of small islets.
Besides, Buu Long tourist area is also surrounded by places such as Buu Phong ancient pagoda, Long Son Thach Dong pagoda, Thien Hau ancient temple along with National historic site of Van Mieu Tran Bien forming a complex living spiritual area. From the top of Mount Buu Long, you can admire a panorama view of Bien Hoa city, which houses of many factories and green stretch of fields interwoven with branches of Dong Nai river.
5. Tran Bien temple of Literature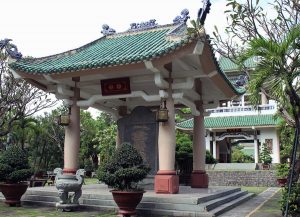 Located on a campus with a total area of ​​up to 15 hectares, in Buu Long ward, Bien Hoa city, Dong Nai, visitors can reach here easily by many different means such as motorbikes, cars to buses. This is the university for students in the south, built in 1715, this temple was established to honor Confucius and other Vietnamese cultural celebrities. Van Mieu Tran Bien was born as a "Temple of Literature Quoc Tu Giam" of the South. One of the symbols of the Vietnamese traditions of learning, temperament and culture. In December 1861 when French troops occupied Bien Hoa, the temple was destroyed and was rebuilt again in the late 20th century so that the generations of today understand the history and culture of Vietnamese education.
Every year, there are 02 major events organized at the temple, the Vinh Xuan in the second lunar month and Thu Vinh in the eight lunar month.
6. Chua Chan Mountain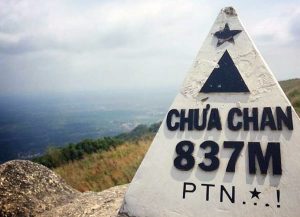 Chua Chan Mountain has a name derived from the Cham language – ethnic group in Vietnam, Chơk Chăn (meaning mountain), or another name is Gia Ray, Gia Lao. This is the second highest mountain in the South, after Ba Den (Black Virgin) mountain , with an altitude of 837m above sea level. This is a charming, unique landscape in Dong Nai and a rare sight in the South.
The natural landscape of Chua Chan mountain is beautiful and attractive with many fresh streams all year round hidden under immense forests, along with man-made relics such as Buu Quang pagoda, Lam Son pagoda, Linh Son pagoda, the tea garden of King Bao Dai … forming a unique landscape complex in the Southeast. It was recognized as a national heritage site in 2012.
Address: Suoi Cat, 4Xuan Loc district, Dong Nai province
7. Hang Gon tomb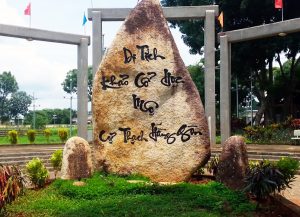 Hang Gon ancient tomb was discovered by Mr. Jean Bouchot, a French engineer, accidentally discovered when opening road No. 2 (now Highway 56) in 1927. The specialty of the tomb is that it's formed by joined granite rocks and long stone pillars, weighing about 30-40 tons, dating back to the monument identified in 150 years BC to 240 years AD.
According to archaeologists, these type of stones could be found only in Da Lat or Phan Rang. The tomb belongs to the type of "Dolmen" with unique and rare architecture not only in Vietnam but also in the region and the world. It is one of the earliest ranked monuments nationally in 1982. Furthermore, the Cu Thach Hang Gon tomb is the most ancient and the biggest tomb in Vietnam which has been preserved until now.
Hang Gon ancient tomb locates in Xuan Tan commune, Long Khanh central district in the 250-meter height of the west of inter-province road number two (From Long Khanh to Ba Ria), 80 kilometers far away from Bien Hoa city.
8. Ecological tourism areas
There are many ecological tourism areas in Dong Nai where not onl you and your family members but also friends can relaxing in the cool fresh air, organize BBQ, camping…Furthermore, a wide variety of games are hosted in these areas, waiting for you. Below are some of the most famous ecological tourism areas:
Vietdreamtravel also provides package tours and car/bus rental services to visit tourist attractions in Dong Nai. Do not hesitage to contact us for any booking requirements.
Best regards,
---