Hoi An tourism is always ranked in the list of attractive places of Vietnam, not only domestic tourists but international tourists are also very impressed with the beauty of the old town along with the cultural interference of many nations around the world. In addition to cultural values through diverse architectures, Hoi An also preserves countless intangible cultural foundations. Coming here, toursit can admire the daily life of residents with customs, religious activities, folk art, cultural festivals …all being well preserved make Hoi An more and more attractive.
What is the best time to visit Hoi An?
The climate of Hoi An and Da Nang is the same. It is characterized by the tropical monsoon climate with humidity and divided into two distinct rainy and dry seasons. The rainy season takes place from September to the end of January. It rains a lot but not cold as in the North. The dry season lasts from February to August, the temperature during this time is relatively high and quite sunny. Fortunately, with the location closes to the sea where it less harsh than other areas, therefore, the best time for you to visit Hoi An is from February to the end of April. From May to the end of August is also a idea time to relax, enjoy activities on the beach.
Tourist spots in Hoi An
Hoi An has many beautiful famous tourist attractions both inside and outside the old town. Each destination has its own charm that you should not miss. In this article, I will introduce in detail the most beautiful and outstanding places in Hoi An, some of them quite new but really attractive.
Tan Ky ancient house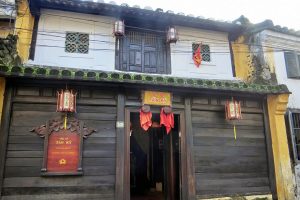 Built in 1741, this is the oldest house in Hoi An. It was named "Tan Ky" as the second generation of house, the residence of the Le family, hoping that would bring them wealth. Until now, the house is still being fully preserved the unique architectural features as well as the ancient beauty from the time it was built. Some of the special architectural works are included two vertical panels which inscribed by parallel sentences; many ancient artifacts and sailboats – the symboled of Hoi An Port many centuries ago;
unique horizontal lacquered boards…Futhermore, coming to visit Tan Ky ancient house, tourists will have the opportunity to ascertain much more about typical architectures which is a convergence of 3 cultural regions of Vietnam – Japan – China with unique and rare motifs.
Phung Hung ancient house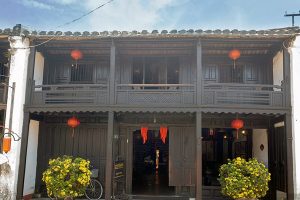 The Old House of Phung Hung, Hoi An was built in the year 1780. This is the house of the Vietnamese merchant in Hoi An. He named the house "Phung Hung", meaning "Flourish" with the desire to be always successful.
Phung Hung ancient house was designed according to the model of a popular merchant house in the early 19th century with the unique blending of Vietnamese, Japanese, and Chinese architectural styles. The materials are mainly rare woods that still retain their original beauty today. The house was built in the midst of lively trade integration and is one of the signs for the prosperous period of Hoi An trading port. Phung Hung was ranked as a "National Historical and Cultural Site" in 1993.
Japanese Covered Bridge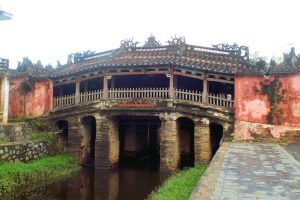 The Japanese Covered Bridge, also called the Pagoda Bridge, was built in the 16th century and is still incredibly well-preserved. The pagoda and bridge are made of lacquered wood with elaborate carvings. On the northern side of the bridge is a Japanese pagoda dedicated to the God of weather to protect sailors. There are statues of two dogs located at the western end of the bridge and two monkeys at the eastern end. Although it is called a pagoda, there is no Buddha image inside. The middle part is worshiped a wooden statue of Bac De Tran Vo – the guardian deity of the country, giving people joy and happiness. The Japanese Covered Bridge has been restored many times but still retains the architectural imprints with typical Hoi An cultural imprints. And today, the bridge stands as a symbol of the old town.
Assembly Hall of Fujian Chinese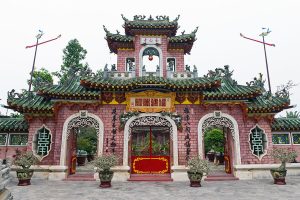 The Assembly Hall of Fujian Chinese was built in 1697 by members of the local Fujian community. It was constructed according to the Chinese character. The main hall is dedicated to the sea Goddess Thien Hau who rests alongside the goddess are Thuan Phong Nhi who has ears to hear the sound of the wind and Thien Ly Nhan who has eyes to see thousands of miles away. Many ancient objects still remain inside include statues, bronze drums, bronze bells and horizontal lacquered board engraved with Chinese characters. In addition to its architecture, many events and activities take place, followed the lunar calendar, on January 15, February 2, February 16, March 23 … ​attract a lot of domestic and foreign tourists to participate.
Opening hours: daily from 08:00-17:00
Quan Cong temple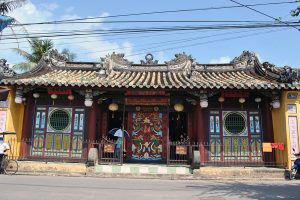 The temple was built in 1653, it was dedicated to Guan Yu (Vietnamese called Quan Van Truong or Quan Cong), a general in the three-kingdom period of ancient China who was a model of loyalty to the king and a dutiful son to his parents. Quan Cong temple was constructed according to the Chaozhou – China character with many houses linked together by rafters. The roof covered with colorful glazed pip-shaped tiles. They are also decorated with colorful porcelain lemon trees flowers, dragons, and small lions.
The main hall has a statue of Guan Yu wearing a dragon-embroidered robe with a dignified face, sharp and bright eyes ahead. Besides, there are two statues of Guan Ping and Zhou Cang – the loyal and sacrificial guardian and servant of Guan Yu General. Two sides of the main altar are worshipped two horses: the white horse on the left and Red Hare on the right – which had accompanied Guan Yu in many life-to-death battles.
Cua Dai Beach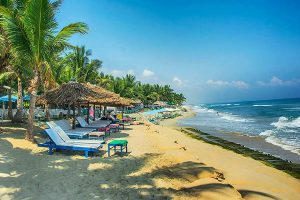 Cua Dai Beach is not far from Hoi An center (about 5 km), located in the territory of Hoi An city, Quang Nam province. The beach has a gentle and charming white sand, clear and blue water, moderate slopes and small waves which make it ideal for relaxing and enjoy recreational activities. Another impressive things in Cua Dai is the rows of coconut trees stretching, soaring in the sea breeze. Currently, this tourist destination in Hoi An has many large seaside resorts attracting a lot of tourists come to stay.
Cu Lao Cham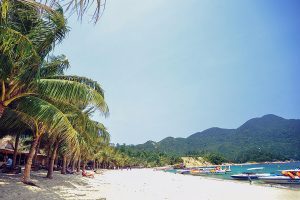 The Cu Lao Cham also know as Cham Islands, approximately 20 km from Hoi An town, in the East Sea. Covering an area of 15km2, this archipelago includes 8 islets:  Hon Lao (also known as Cu Lao island, the largest), Hon Kho Me, Hon Kho Con, Hon La, Hon Dai, Hon Mo, Hon Tai, Hon Ong. The population on these islands is about 3,000 people. The island has preserved many architectural constructions, belonging to Sa Huynh, Cham Pa, Dai Viet cultures, which date several hundred years. The islands are also a tourist destination with a cool year-round climate, rich flora and fauna. Bringing in its wild beauty, the islands quickly become an attractive destination, offering many activities such as fishing, camping, scuba diving, take a canoeing trip to visit other islets nearby.
My Son Sanctuary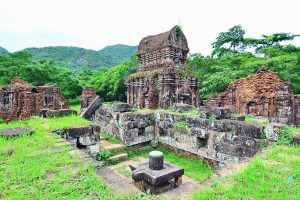 My Son Sanctuary is located in Duy Phu commune, Duy Xuyen district, Quang Nam province, about 40 km away from the ancient town of Hoi An, in a valley about 2 km in diameter, surrounded by hills. The temples constructed between the 4th and the 14th century by the Kings of Champa. Beside the ceremonial function, My Son was also the cultural and religious center of the Champa dynasties and the burial place of many kings, Cham royalty and national heroes. The sanctuary was a complex construction, including many difference temples and numerous stele in varios architectural styles. Follow the French research, there were 70 temples in here. And now, there are only 20 temples that still remain almost intact. The rest have been destroied and reduced to ruin by the ward and time. However, it is still the most important sanctuary of the Cham people and holds a very important position in the art and culture of Southeast Asia.
In 1999, My Son relic was recognized as a World Cultural Heritage Site by UNESCO because this heritage is a typical example of the gift of cultural heritage. cultural change and is the only evidence of Asian civilization has disappeared.
Thanh Ha Pottery Village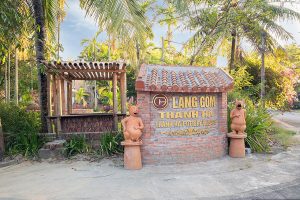 Located about 2km from the center of Hoi An Ancient Town, along the Thu Bon River, Thanh Ha is a pretty small but extremely peaceful village. This pottery village is specializing in the manufacturing of popular products to serve daily use such as cups, bowls, vases, and pots which made by skilled hands and decorated with attractive colours.
Over the past five centuries, local potters have kept their traditional method of making pottery – hand made and wheel thrown that attract many people come to visit and practice.
An Bang Beach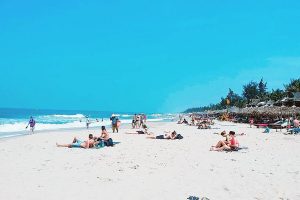 An Bang Beach is a located in Cam An ward of the ancient city of Hoi An, where it still retains its pristine and pure beauty, stark contrast to the vibrant and bustling Cua Dai beach. Although the beach is a new tourist spot, many people including the locals and tourists have flocked to here, since the recent erosion at Cua Dai Beach. The beach at An Bang is pretty well managed, very clean, and spacious. It's not only a good place to relax, sunbathing, swim, or fishing but you can also find jet skis and parasailing on offer. Furthermore, many people prefer to cycling along the beach to visit Tra Que village or boating explore Cu Lao Cham, also known as Cham Islands, from An Bang beach.
Museum of Trade Ceramics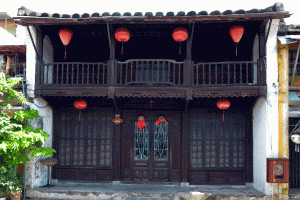 The museum was formerly an old house, built in the 19th century. The museum has been keeping over 430 ceramic artifacts, such as dishes, wine cups, vases, teapots…, dating from the 8th to 18th centuries. Most of the artifacts are trading ceramics originating from the Middle East, India, China, Japan, Thailand, Vietnam… which shows the international cultural-economic exchange relationship had strongly taken place in Hoi An. In addition, there are many samples of parts of the old trading ships that brought merchants around the world to this seaport which are preserved intactly. In particular, there are numerous handicraft items of traditional villages are being sold here.
Address: 80 Tran Phu, Minh An, Hoi An.
What you should do in Hoi An
Cycling in Hoi An
Biking is the perfect way to explore Hoi An. The excursions will give you the chance to really get up close to the local and see how they live. The best sights and experiences are often found down obscure side streets, alleyways, cycling through rice paddies and traditional villages or river views. Currently, there are many tourist agents offers tourist from a half day to full day cycling trip to some best place such as Cam Kim Island, Tra Que Vegetable Village, Hoi An Town, An Bang Beach, My Son Sanctuary…
Boating along the river
Cruising along a river is one of the most popular activities in Hoi An. A trip would help you indulge in the beautiful surrounding landscape and witness the rural life where local people live on the bank of the river with corn, peanut growing or duck raising, and using bamboo boat as their main transportation. It would be so much fun to see local fisherman rowing a boat with a fishing net to catch fish. This is also an idea way to visit the handicraft villages, discover the local people daily activities during the excursion.
Cooking Classes
Cooking classess in Hoi An do not just give you the idea how to cook some Vietnamese dishes. The most basic experiences will guide you visit local market, choosing and then buying ingredients, learning about their special food from your host, choosing some dishes and cooking it. Of course, you also enjoy the results of your endeavours. However, some of the the booking classes in Hoi An will still include the above but there are experiences to visit local farm, selecting fresh ingredients from here and use it later to cook. Even more, you also have a chance to practice what the famers daily doing in their land such as fertilizing, preparing the soil, planting the herbs, watering and hoeing the vegetable beds…by simple tools or hand.
Visit night market
The night markets in Hoi An are not really famous or crowded like other markets in Da Lat, Dam Market in Nha Trang, Ben Thanh Market in Ho Chi Minh, Old Quater Market in Ha Noi….but it has many unique features. The markets offer many type of souvenirs, clothes, jewellery and especially lanterns with all shapes, sizes and hues.
Although it is a market, this place is not only for trading activities, but also an attractive spot for many people to visit, enjoy the rustic dishes, and various folk games – one of the indispensable experiences on these markets.
Vietdreamtravel provides daily and package tours, car/bus rental services and visa to Hoi An landing at Da Nang airport for foreign visitors who want to come and visit this city. Do not hesitage to contact us for any support.
---