The Côn Đảo islands are a secluded paradise off the southern coast of Vietnam where you'll find white sand beaches, scenic bays, coral reefs, vibrant jungles, and some of the best scuba diving in the region. Here are the reasons why you should visit this amazing island.
What is the best time to visit Côn Đảo?
Similar to many other islands in Vietnam, you should avoid going to Côn Đảo during the stormy season – usually October, November, and December. The speedboats and canoes are also limited during the rough sea or strong wind. From March to September, the sea is calm, weather is cool, suitable for many beach activities. Also, turtles come to lay eggs a lot from June to August offering visitors a great choice to admire this amazing natural phenomenon.
What to do on the islands?
The Côn Đảo Islands are an archipelago of 16 mostly uninhabited islets just off the southern coast of Vũng Tàu province. This is a great destination for those looking to escape bustling city life with plenty of things to see and do here.
Côn Đảo National Park
Côn Đảo National Park is founded on March 31, 1993, with an area of ​​20,000 hectares. The ecosystem is classified as islands and tropical forests and is divided into two main types of wood. The flora included 882 high-class plant species (562 genuses, 161 families). Côn Đảo has 144 species, 14 of which are in the group of precious rare animals. The sea in Côn Đảo is divided into three ecosystems: seagrasses, mangroves, and corals – which is a home of nearly 2,000 species of sea creatures, reptiles, sea birds… Especially sea turtles are large in quantity and some of the marine species are listed in Vietnam's Red Book such as blue whales and dugongs.
Coming here, visitors can explore the park through a wide range of tours such as climbing, going fishing, diving, trekking, riding, and sightseeing…
Visit the prison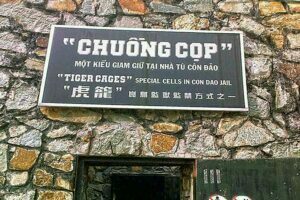 The prison was built in 1862 by the colonial French and later run by the South Vietnamese and Americans.
It was hell on earth for people fighting for the independence of Vietnam.
Prisoners were held in several prisons and treated in horrible conditions. They were beaten, tortured, and kept in "tiger cages". More than 20,000 prisoners died on the island. The prison is ranked a special historical relic of national importance by the government of Vietnam. Furthermore, it's preserved as a museum to tell future generations of the horrors endured here. ​Every year, thousands of Vietnamese, of all ages, come to visit and pay their respects to the former inmates of the prisons, many of whom are considered great national heroes.
Beaches
The island has plenty of unspoiled beaches that offer you the best place to relax and refresh. The beaches are pristine, long stretching of soft white sand and the coastlines are untouched by development. They're a perfect combination of the harmonious natural picture of the sea and the mountains. The water is beautiful and there's good for snorkelling and swimming too. For the best, check out Đầm Trầu Beach or Suối Nóng Beach.
Scuba diving and boat trips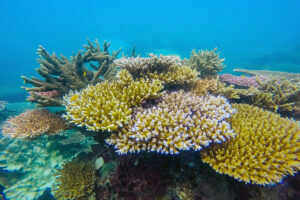 Côn Đảo consists of different islets such as Bảy Cạnh islet, Tài islet, Tre islet, Trứng islet, Trác islet or Cau islet… is the convergence of coral reefs with the highest density in Vietnam, an ideal place to explore the amazing ocean world. The best time to dive is from March to June when the water is clear and calm. Also, there is only one way to travel between these islets – by boat. A boat trip to outlying islands can be arranged through some of the hotels or tourist agents.
How to get here?
To get to Côn Đảo island, you'll either fly or take a boat. There are multiple flights to Côn Đảo every day from Tân Sơn Nhất Airport in Ho Chi Minh City or Cần Thơ Airport. If you take a flight from Hanoi, you have to transit to Tân Sơn Nhất airport as well. Also, it takes less than 2 hours to get here by flight.
For the boat trip, you have to come to Vũng Tàu Harbour or Trần Đề Harbour (Sóc Trăng province). The fare cost around 600,000 VND/ticket.
---