Vietnam is a really peaceful country. It has been attracting a lot of foreigners around the world for this reason. And for sure, once you set your foot in this nation, you will see that a lot of things to love about Vietnam. Matter of fact, many visitors who had a chance to explore the country fell so much love with it and decided to stay for longer than their initial plan. However, it is still new territory to you and it would be best to know some Vietnam safety tips to avoid a possible upset when you're traveling in here.
1. Taxi
Transportation is the first thing you have to concern, especially when you take a taxi. There are many drivers using "wrong meter counter" to make it run faster or driving in a circle and charge you at a very high price. This thing usually happens in big cities like Hanoi, Nha Trang and Ho Chi Minh. Therefore, here are some reliable taxi brands that you can order or book throughout Vietnam such as Vinasun, Mai Linh, grab, Vina, Saigon. Also, we highly suggest using a GPS or GNSS to follow your driver.
2. Shopping in the markets
Shopping is a behavior of many people especially when they traveling to another place, souvenir would be the best thing to keep your memories about the place you have visited.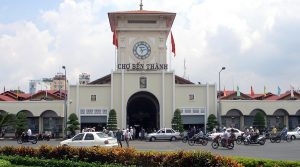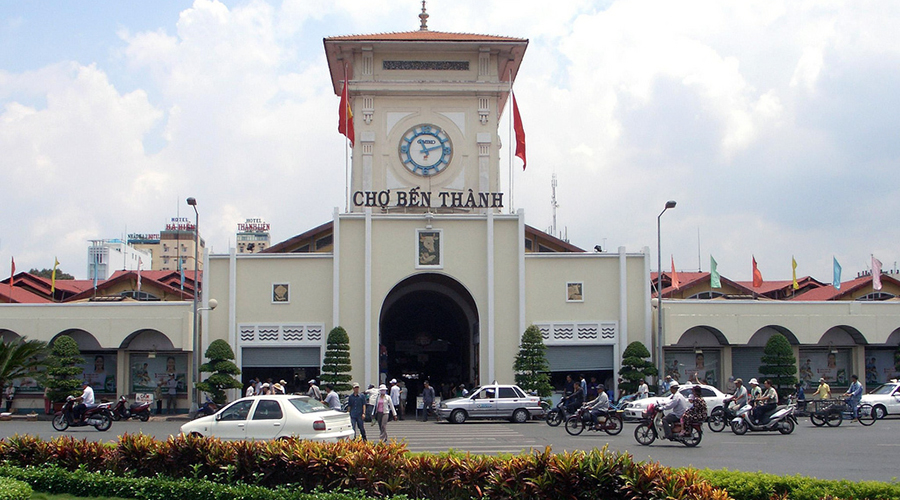 But most of the shop keepers or sellers always give you a higher price than usual. That is a Vietnamese culture and them willing and happy when you ask to reduce the price. Therefore, do not be hesitate to open negotiation and try to bargain on everything you buy in the markets. Also, you should not buy the first thing you see. The market is full of people selling fairly similar things. therefore, turning around with some spots before finally deciding on what you want.
3. Local food
Vietnamese food is amazing! Street food and vendor' food are delicious but most of the time it is not really clean, especially for those who have a weak stomach. Most of the shops located on the pavement, so food can be dirtied by the smoke and dust from vehicles. The sellers may not prepare them carefully, or because of the climate, the food may have some problems. You may have a stomach ache after eating. Cheap drinks are not always safe as well.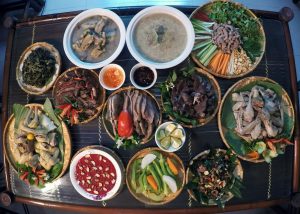 Tips for eating safely:
Know your stomach and what you're allergic to.

Be careful with raw meat and animal blood dishes.

 

Prepare medicine in case you have diarrhea or a problem with your stomach.
=> Click here if you want to join a street food tour with our local guide.
4. Weather
Because of the monsoon influences and the country's shape, the weather of each region varies from the north to south. Northern Vietnam has four seasons (Spring, Summer, Autumn, and Winter) while in the south has only two season (rainy and dry). During its summertime, in the north, from May until October, it is very hot, humid and rainy summer with daytime temperatures reaching 35 – 40°C. Meanwhile, in wintertime, from November to February, it may go down 5 – 8°C and even below zero in mountainous areas. 
In central Vietnam, the hottest months is from May until September,  and cooler, raining from October to December. Southern Vietnam is generally dry and hot from November to April, and the highest rainfall in May until September. 
Checking the weather is always needed before coming to visit any part of Vietnam to avoid raining, flooding or even storm. On average, every year, it has from 8 to 12 typhoons effect to Vietnam. To ensure your safety and enjoyment, it would be better that you should avoid traveling to the specific areas in specific months when the typhoons hit or have heavily rained. Especially for those who drive a motorbike to a rural area or on mountainous roads must absolutely not do it when there's heavy rain.
Tips for traveling in typhoon or rainy season in Vietnam:
Update the weather forecast during your stay

Use transportation means which can ensure your safety even in stormy weather. If the condition worsens, stop moving and find shelter.
5. Traffic in Vietnam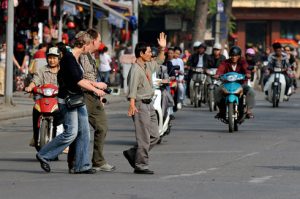 It's an already given fact that Vietnam's traffic is hectic and can be a real concern for your safety while traveling in Vietnam. For first-time travelers to Vietnam, crossing roads seems like a really hard thing to do as the traffic appear to be so overwhelming. The endless flow of motorbikes and cars in big cities seem like never ceases even if there's a red light. Don't be stress and just start slow and never stop in the middle of the road. The drivers will automatically avoid you. Do not cross the road by running and raising your hand up is the signal to drivers.
To really safe driving a motorbike in Vietnam, always wear a helmet and obey the laws. Drive slowly and stick to the right side when you're not really confident. And of course, having travel insurance is an important thing.
Related post: 06 essential tips to cross the road in Vietnam for foreign visitors. 
6. Look after your valuable things
Thieves do exist in every tourist cites not only in Vietnam but in other nations as well. Losing your passport, cash and other valuable things can be an issue for travelers so, when possible, make sure that you use the safe in the hotel and just carry copies of important travel documents. Also here are some tips for you:
Use a money belt that can be worn inside clothing that cannot be reached without opening the jacket.

 

Do not use your phone on the road, in case you need to contact someone, try to create a distance that no one can take your phone and drive away.

Watch your surrounding area when you want to take a picture by phone or camera.

Make a report to the local police as soon as possible when you're a victim of it.

When you use public transportation like buses or trains, always keeping your values in front of you where you can keep an eye on them.
7. Know the basic rules and regulations

 
It would be better to research and be aware of its basic rules and regulations to avoid troubles, make your trip more fun and enjoyable. Some of the common things are listed bellow.
Dress well before coming to visit a temple or pagoda in Vietnam.
Taking photos in places where there is a police or military present is prohibited.

 

Many islands and restriction areas do not allow foreigners coming. Therefore, checking their details before booking a ticket.
Make sure you count your change – you'll be a millionaire… in Vietnam Dong. All those big numbers can be tricky to figure out. 
Careful what you're drinking – some rice wines have CRAZY levels of alcohol. Know your limits.
Drugs are ILLEGAL – penalties for possessing a small amount of ANYTHING can entail serious consequences.

Travel with recommended tour agencies. Even if you plan to buy tickets when in-country, research your journey a little first on the Internet. This way you avoid unreliable tour agencies and badly run hotels.

Your passport must be valid for at least six months before coming to Vietnam. It's airline requirements. Also, many people be confusing the concept of "visa on arrival" to Vietnam, check carefully if you are required a visa to enter the country.
After all, violent crime is rare in Vietnam. And there's no record of terrorist acts throughout the country. Crimes that are committed usually from drunk fights and robberies. Therefore, Vietnam is a safe country to visit and for sure you will enjoy your time in this charming country. However, it always best to be cautious and vigilant at all times so you won't have any problems here.
---