Binh Thuan – a famous place with many scenic spots and historical monuments of Champa culture. Furthermore, the province has one of the best beaches – Mui Ne beach, and the vast sand dunes like the desert which offer many outdoor activities for you to experiences.
What is the best time to visit Binh Thuan?
You can go to Binh Thuan at any season of the year. The climate here is divided into two distinct seasons, the rainy season and the dry season. Depending on your schedule, you can choose the most ideal time.
From April – May: this is the hottest weather, suitable for swimming and relax on the beach.
The rainy season usually starts from May to October, the dry season from November to April next year. But in fact, the rainy season only focuses on August, September, and October. However, if you want to go here for surfing or kitesurfing, the days between August and November are the perfect times for big waves and strong winds.
According to Vietdreamtravel, the best time to visit Binh Thuan is from December to March, when the sky is sunny, the beach is just amazing with yellow sand, blue water.
Famous tourist destination Binh Thuan
1. Sand dunes in Mui Ne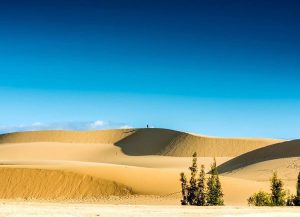 Sand dunes in Mui Ne are considered "unique" in Vietnam, originating from an ancient iron mine. Located stretching from Binh Thuan province to Ninh Thuan but the main attraction of the sandhills and considered the most beautiful are on the way to Mui Ne, located opposite Suoi Tien.
The shape and color of these sand dunes always change due to the wind, that why it has many different names such as Cat Bay hill, White sand dune, Red sand dune… These dunes are a popular picnic place and sand-sledding is a common activity here.
2. Ke Ga Cape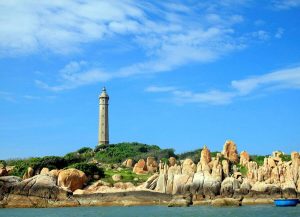 Ke Ga Cape is also known as Khe Ga cape in Thuan Quy commune, Ham Thuan Nam district, Binh Thuan province. This is a cape jutting out of the East Sea about 40 km southwest of Phan Thiet city.
Ke Ga Cape is actually a small island about 500 meters from the mainland, customarily called Hon Ba. At high tide, Ke Ga is isolated as an island which is surrounded by a blue sea. But when the tides recede, a strip of sand will reveal connecting Ke Ga cape to the mainland.
The cape has a lighthouse which has been confirmed by the center of the Vietnamese record book as the tallest and oldest lighthouse in Vietnam. According to maritime history in this area, Khe Ga Cape is considered an extremely dangerous position of the sea from Phan Rang to Vung Tau. From the previous centuries, there were many merchant boats passing through this place and were sunk due to the unidentifiable coordinates and direction.
Hence, within 2 years (1897-1899), the French had surveyed to build the lighthouse aiming to support their military transportation and foreign merchant ships. Inside the lighthouse, there are 183 spiraling steel steps leading to the top of the lighthouse. And there was a big 2,000W light visible for 22 nautical miles (approximately 40 kilometers).
Currently, Khe Ga Cape has become an attractive tourist destination for tourists visiting Binh Thuan province as a unique architectural relic.
3. Poshanu Tower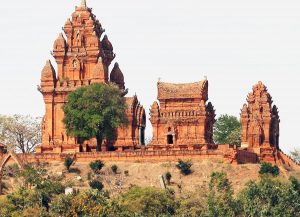 Poshanu Tower or Po Sah Inu, also known as Pho Hai Cham Towner, is a group of the tower remains of the ancient Cham Kingdom, located on Ba Nai hill, Phu Hai ward, 7km away from the center of Phan Thiet city and about 13km from the center of Mui Ne town. It was built more than 1,200 years ago with the aim of worshiping the Shiva – is one of the revered Hindu deities. However, there are only three towers remaining (main tower, medium tower, and small tower).
This tower was built follow Hoa Lai architectural style – one of the ancient art styles of the Cham Kingdom. Although it is only a small towner, it contained the quintessence of architectural techniques and decorative arts of the ancient Cham, creating majesty and mystery. In 1991, this relic was ranked as a national architectural monument by Vietnam Government.
4. Ta Cu Mountain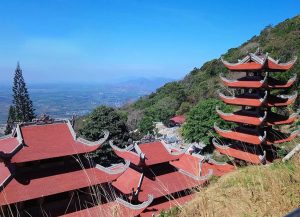 Ta Cu Mountain is located along National Highway 1A in Thuan Nam town, Ham Thuan Nam district, 28km south of Phan Thiet city. This is a climbing site with a peak of 649m to the sea surface. The scene here is pristine, marvelous with identical mountains.
There are two ways to go up Ta Cu Mountain: spend more than 2 hours hiking through the verdant rainforest or take a 15-minute cable-car ride to reach the top.
Set atop Ta Cu Mountain is Linh Son Truong Tho Pagoda at an altitude of over 400m, features several towers, Buddhist statues, and caves amidst ancient green trees. The main attraction is a 49m long and 7m high statue of a reclining Buddha, one of the most unique and biggest statues in Southeast Asia. It was made from reinforced concrete and covered with white lime on a stone base, leaning on the mountain. The statue was begun in 1963, is finally completed after 4 years later, and has become a favorite hotspot for tourists and Buddhist pilgrims.
5. Bau Trang (White lake)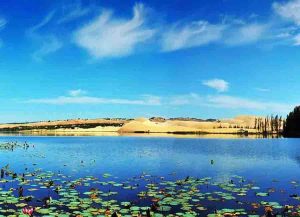 Bau Trang is the name of a freshwater lake about 35km from Mui Ne in Bac Binh district, Binh Thuan. Bau Trang is divided into 2 parts by a crossing sandhill. The local people called the small one Bau Ong (Male lake) and the other Bau Ba (Female lake).
Bau Ba is also known as Bau Sen (Lotus Lake) as the lotus are covering the whole lake. Lotus is planted by residents for the purpose of harvesting seeds. However, the lotus cultivation in this area makes the landscape more unique. Bau Trang is still an unspoiled, very worthwhile tourist destination when traveling to Mui Ne. The best time to explore Bau Trang is early in the morning when you will not only have a chance to hunt for great photos but also admire the wonderful scenery.
6. Duc Thanh School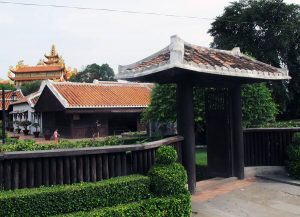 Duc Thanh is a school founded by patriotic scholars in Phan Thiet, Binh Thuan province in 1907 in response to the Modernisation Movement led by Phan Chau Trinh, Tran Quy Cap, and Huynh Thuc Khang. Duc Thanh school is a pride of local residents since Nguyen Tat Thanh (later President Ho Chi Minh) had stopped and taught for a while before going abroad in 1911.
The main structure of the school consists of 2 large wooden houses used as classrooms, a small house – is a place for reading books, discussing, meeting, and the boarding house where he and his pupils lived. Until now, the school still has many precious objects that closely attached to teacher Nguyen Tat Thanh, such as desk, ink slab, sofa, carambola tree which Thanh cared for in his free time, and a brick-well nearby.
In 2014, Vietnam Record Association recognized Duc Thanh school to be one of the top ten historical vestiges sites in commemoration of Nguyen Tat Thanh that attract the largest number of tourists.
Address: 39 Trung Nhi street, Duc Nghia ward, Phan Thiet city.
7. Po Dam Tower (Po Tam)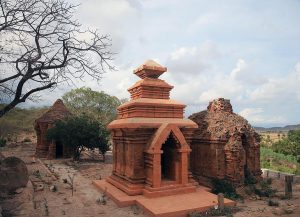 Po Dam or Po Tam is the name of a group of Cham towers in Lac Tri village, Phu Lac commune, Tuy Phong district, Binh Thuan province. This tower was built to worship King Po Dam, also known as Po Kathit (Pan La Tra Duyen) of the Cham people. The time to build the tower is unknown, but through a comparison of art styles, archaeologists only temporarily identified Po Dam tower of the same age as Hoa Lai style towers (Ninh Thuan), possibly at the end 8th century and the 9th century. However, when comparing with the history of Champa, the reign of Po Dam is 1433-1460.
Following the legend of Cham people, there was a challenge of King Klong Garai and Po Dam (who was then the mandarin) who built the tower first, and Po Klong Garai won. The construction techniques and architectural arts are similar to the Poshanu Tower, all of them belong to Hoa Lai art and architectural style. Po Dam Tower was annual ritual and worshiped area for the King of Cham people. Po Dam Tower was ranked by the State as a National-level architectural monument in 1996.
8. Van Thuy Tu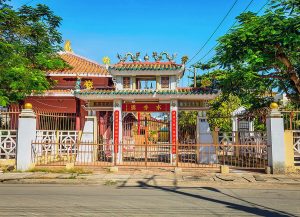 Van Thuy Tu is located on 54 Ngu Ong Street, Duc Thang ward, Phan Thiet city, Binh Thuan province. The communal house was built in 1762 by local fishermen to worship Ca Ong (Whales) as the locals believe whales are benevolent creatures that protect fisherman from bad weather and the dangers at sea. The house is displaying and preserving skeletal remains of whales, fishing boats, conical hats, antique bronze bell, terracotta statues, incense-table, and authentic artifacts since the Nguyen Dynasty.
However, the most attractive thing to tourists in Van Thuy Tu is the largest and longest gray whale in Vietnam, which is 22 meters long, well preserved for more than 100 years old. There is an annual festival takes place on June 20 of the Lunar calendar each year to pray for smooth sailing, good weather, and a good fishing harvest.
Van Thuy Tu has been recognized as a national treasure in 1996.
9. Co Thach Pagoda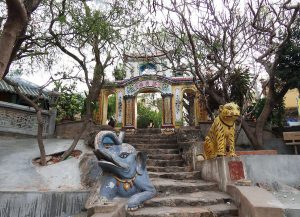 Co Thach Pagoda, also known as Hang Pagoda or Da Co Pagoda, is located on the beach of Binh Thanh Commune, Tuy Phong District, 100 km north of Phan Thiet city. The pagoda is located on a mountain slope 64m above sea level. This is a Buddhist architectural complex including a hermitage, temple, and cave built scattered, continuously, and adjacent to the rocky caves in the area of more than 2,000m2. Each cave worships a Buddha; a Bodhisattva or a monk. Inside the cave worshipping the Co Thach Temple establisher – monk Bao Tang, there are many other statues of monks and many ancestral tablets of other people that had contributed to the temple establishment.
The temple was built in the middle of the 19th century. At first, it was just a small temple with wood walls and a leaf roof. After many restorations, the temple is not only larger and more spacious but also recognized as a national monument and scenic spot in 1996.
After visiting the scene of the temple, you can move to Ca Duoc multi-colored rocky expanse that stretches for nearly 1km along the coast. Recently, a new Co Thach tourism village was constructed with many attractive small houses available to both tourists and pilgrims.
10. Mui Ne beach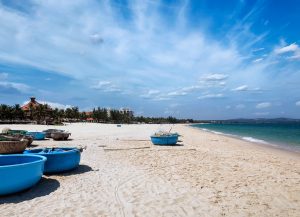 Located 22km northeast of Phan Thiet city, Mui Ne Beach is a fishing village as well as a popular tourist destination in Binh Thuan Province. There are many unspoiled and pristine beaches in Mui Ne. It is also a popular windsurfing destination in the area with ideal waves for those new to the sport. You can learn to surf and rent a skateboard at the beach shops.
There are 02 main beaches: Ganh Beach and Suoi Nuoc Beach, both of them have many resorts, shops, and restaurants. But the most highly developed area is Rang Beach in Ham Tien which often erroneously called "Mui Ne Beach" by foreigners. Besides its famous beach, seafood and beautiful sand dunes have long been an attractive subject in Mui Ne.
Vietdreamtravel also provides package tours and car/bus rental services to visit tourist attractions in Binh Thuan. Do not hesitage to contact us for any booking requirements.
Best regards,
---